We've outlined the things for you to know, do or be on the lookout for in the time before or soon after your membership begins.
Once you receive your SCAN member ID card and your membership takes effect, show your SCAN ID card at the doctor's office, pharmacy and anywhere you receive care or service.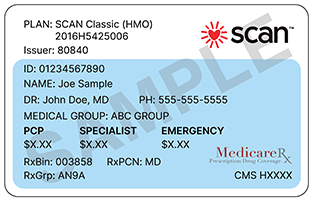 Your ID card will arrive within the first two weeks of signing up. If it hasn't arrived or you have a question about the information on the card, call SCAN Member Services.

A digital version of your ID card is available any time in your SCAN online member account—just one good reason to sign up for your account today!
New Member FAQs
Below are the most frequently asked questions our Member Services Advocates receive. For more helpful information, including how to get a referral, use your transportation benefit or find urgent care, please review the tabs above and
visit the extras page
.
Q: How do I get a new member ID card?
The fastest and easiest way to request an ID card is to visit the SCAN Member Website. You can view, print or email your ID card or request a new one right from your secured account, 24 hours a day. If you haven't already signed up for an account you can register and gain access today by clicking this link:
Create your Member Account - SCAN Health Plan
.
Q: How can I change my primary care doctor (PCP)?
Changing your PCP is fast and easy. Here's how:
Log in to your online member account: SCAN Member Website | Login. If you haven't already signed up for an account you can register here.
Click on the "Care & Prescriptions" tab in the menu at the top of the page
Click on the "Find your doctor" tile towards the bottom of the page
Search for primary care doctors in your area
Pick the primary care doctor you want from the doctors listed
Click on "Request a PCP Change" in the middle of the page and complete the request form
To change to a primary doctor in a different medical group call Member Services and they will be happy to help you make the switch.
Q: When should I use my SCAN online member account?
Once you sign up for your online account, it is available 24 hours a day and has all your plan documents and details. Use it to:
View, download or print your plan documents, including your Monthly Summaries and Annual Notice of Change
View, print, email, or request a replacement ID Card
Set your communication preferences—tell us what to send you via the mail, email or even text
Change your primary doctor within your medical group
Change your SCAN plan
Securely pay your plan premium (if you have one), or view your payment history
Contact Member Services through secure messaging. Secure messaging is a safe way to send and receive messages from SCAN. Everything in the message is encrypted (protected)—including attachments—so only you and SCAN can read it.
To do all this and more, set up your account or log in here.
Q: What is the best time to reach Member Services by phone?
We are available: 8 a.m. – 8 p.m.
7 days a week October – March 31
Monday-Friday from April 1 – September 30


If your question isn't urgent, you can save time by calling later in the week and before 10 a.m. or after 3 p.m., PT. You can also send us a secure email anytime, through your member account.