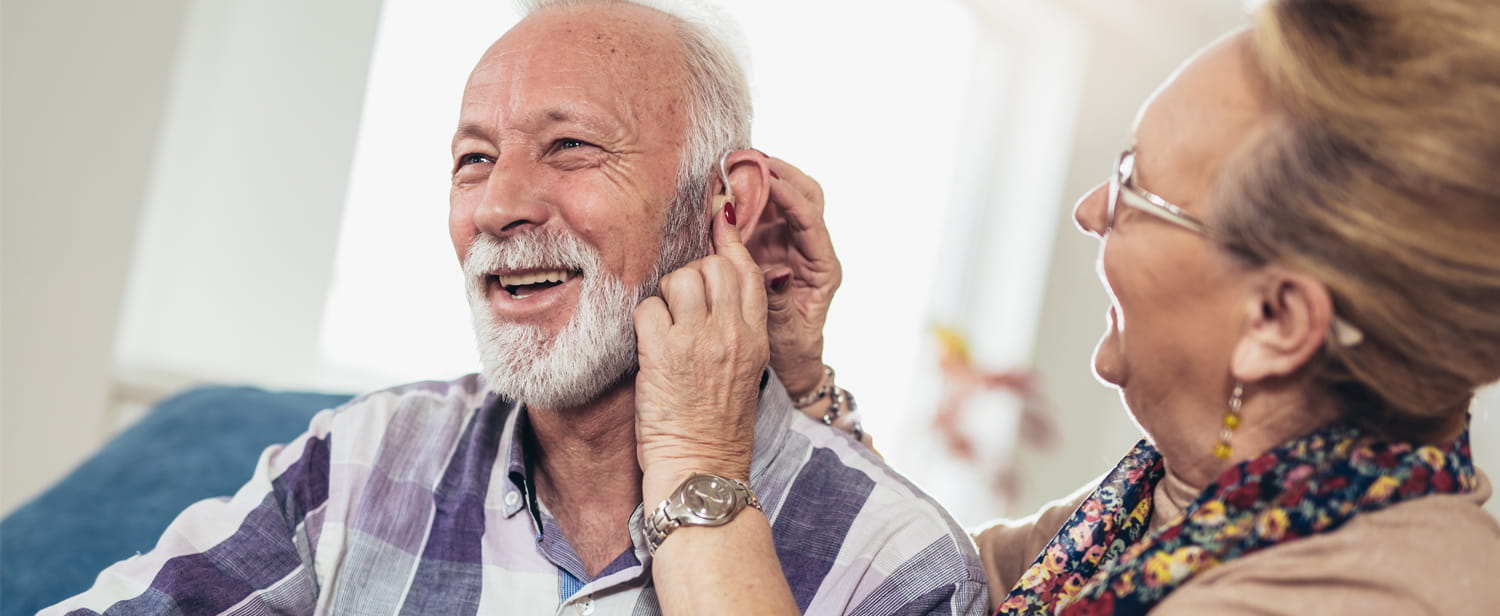 2020 Hearing Aid Benefit
SCAN offers a hearing aid benefit through TruHearing® for most plans.
This benefit allows you to buy hearing aids at a reduced cost through the TruHearing Select program. You may buy up to two hearing aids per year with copayments between $450 and $750*, per aid, depending on which of two models you select.
The benefit also includes:
A TruHearing consultant to help you find and schedule your first appointment
A comprehensive hearing exam with a hearing professional
Up to three follow-up visits for fittings and adjustments to your new hearing aids
The ability to stream audio or telephone calls from a smartphone directly through your hearing aids
A three-year warranty
A 45-day trial period
48 hearing aid batteries
TruHearing's team of professional consultants will help you throughout the process, answering your questions and helping schedule your hearing examination with an accredited auditory consultant.
At your appointment, your provider will examine your hearing and recommend a hearing device for you. He or she will provide you with information about your hearing aids, including what you can expect to experience as you get used to wearing them.
TruHearing isn't available for all SCAN plans. Check your Evidence of Coverage to see exactly what your plan includes.
Frequently Asked Questions about the Hearing Aid Benefit
Q: I want to use my TruHearing Select benefit. Where do I start?
Your first step is to contact TruHearing. They'll verify your coverage and answer any questions before scheduling your hearing exam with a TruHearing provider.
Q: How do I schedule an appointment with my TruHearing provider?
A TruHearing representative will help schedule your appointment with an accredited auditory consultant in your area. At your appointment, the consultant will examine your hearing and help you select the right hearing aid.
Q: Who will conduct the hearing exam?
The hearing exam will be conducted by a TruHearing provider who is either an audiologist or a hearing instrument specialist. Both are highly trained and licensed to dispense hearing aids.
Q: What will the hearing exam be like?
The TruHearing provider will conduct a thorough hearing exam and make recommendations for your hearing aid based on your pattern of hearing loss.
Once you and your provider have agreed on the right aid for your needs, your provider will order your hearing aids to be delivered to you.
Within a week of receiving your hearing aids, you'll have a follow-up appointment with your provider to fit and adjust them. At this appointment, your provider will guide you through specifics about hearing aid use and care.
You're also covered for two more follow-up visits so you can ask any questions you may have or to adjust your hearing aids fit or functionality.
Q: Is there a charge for the hearing exam?
No*, the benefit covers one hearing exam per year.
Q: Which hearing aids are available to me with this benefit?
Your benefit covers TruHearing hearing aids at the advanced and premium levels of technology.
There are two models available; both of these models come in a variety of colors and styles and feature the most up-to-date developments in hearing aid technology. These include feedback suppression, speech enhancement, noise reduction, high-definition sound quality and smartphone connectivity.
Q: Does TruHearing offer rechargeable hearing aids?
Yes, speak with your TruHearing specialist to see if the rechargeable hearing aids are right for you.
Q: How long will my 48 batteries last?
Each hearing aid battery typically lasts for around five to seven days, so 48 batteries should last between nine and 12 months.
Additional batteries are available for purchase at a price of approximately $39 for 120 batteries. This price is available to any SCAN member regardless of whether or not they have purchased their hearing aid through TruHearing.
* For Connections, Connections at Home, Prime and employer group plans, please refer to your Evidence of Coverage for hearing aid cost.