For information on SCAN's response to the coronavirus (COVID-19), click here. SCAN members: for guidance in getting care during the current states of emergency and other FAQs, click here.
SCAN History 1977-2017
Watch this seven-minute documentary about the founding of Long Beach-based SCAN in 1977, and learn how the organization has stayed true to its mission -- keeping seniors healthy and independent for more than 40 years.
Video Transcript

| | |
| --- | --- |
| Super: | SCAN Celebrating 40 Years |
| John Kotick: | You don't always know today what your impact is going to be 40 years down the road. |
| Chris Wing: | You couldn't create a better story; you couldn't make this stuff up |
| Victor Regnier: | The story goes that there were these 12 angry seniors. |
| Dave Schmidt: | The story that we've told for many years is that it was formed by a group of seniors and a social worker in Long Beach. |
| Jodi Cohn: | They were very persistent. I knew some of them over a period of time. |
| Sam Ervin: | Twelve of them were some of the most active seniors in town. Advocates, people who'd been in Gray Panthers at the time. |
| Victor: | And I gotta tell you, these were people who were frustrated. |
| John: | There was certainly a catalyst in the community. There was a reason that there was a Long Beach Geriatric Healthcare Council. Long Beach at that time was known by a lot of folks as "Iowa by the Sea." |
| Victor: | There were probably between 20 and 25 percent of the population that was over the age of 60 in Long Beach and that was a big number. |
| Dave: | They really saw a lack of support for people who were frail and wanted to stay in their home. |
| Jodi: | The system was fragmented, it was expensive, there weren't providers who could take care of older people. |
| John: | The services existed but you had to go from place to place to place to access them. |
| Victor: | The default was going into a nursing home—that was the easy way to solve the problem. You didn't need to assemble services; you didn't need to stay in your home. You just moved into a nursing home. And that's what older people were doing. |
| Sam: | So the concept was to create a single entry system for seniors and to coordinate with all the different agencies that served them—both healthcare and social services. The committee came up with Senior Care Action Network. SCAN. |
| Jodi: | The older people who were advocating wanted the idea of action in there. |
| Victor: | There was a genuine sense that we could solve this. |
| Victor: | SCAN was the hub; the spokes were the relationships, the contracts with all these other organizations to deliver services to keep them independent. We had a small team of case managers when we started. We worked out of St. Mary Medical Center in a large room; I think it was their Medical Office building. |
| John: | I think initially it was received very well by the clients we served. I don't know that it was known very well. |
| Sam: | We wanted to find the next step. That was the Multi-Purpose Senior Services Project that we applied for and became one of the first eight sites in the state. In 1981 I found out about the Social HMO and people turned to me in the room and said: "Sam, you like these pioneering kinds of programs, why don't you guys do this?" And we said: "Yeah, let's write a proposal. And we wrote such a very good proposal that we got it!" |
| Jodi: | We were very excited because this just opened up a whole new world for us. |
| John: | Bringing together social services and a health maintenance organization. |
| Sam: | The most comprehensive benefit package that seniors had ever had |
| Jodi: | For the people who qualified it was just a tremendous service and they had the help of a personal care planner—somebody who went out to their home, talked with them, figured out their needs. |
| Sam: | And that was the big job; that was the central mission of SCAN. |
| Dave: | You could get these services that would help you stay living in your home and obviously that's what people want and we were able to help them do that. |
| Sam: | So SCAN ultimately, through the MSSP and various programs but especially the Social HMO, kept frail seniors, nursing home certifiable by state criteria, out of nursing homes. |
| Jodi: | After many years, probably 15 or so, we had been the longest-running federal demonstration – the Social HMO—finally the feds said okay, we're going to end the demonstration. |
| Dave: | Probably the most singular event was the loss of the Social HMO status, which led to a lot of soul searching and caused us to have to figure out how we could continue to fulfill our mission without that special designation and frankly the incremental funds that came with it. |
| Jodi: | Our identity was wrapped up in being a Social HMO and providing these wonderful services that kept people in their homes; you know it was just so true to our mission. |
| Dave: | We felt it was our responsibility to at least grandfather the people who were receiving benefits for as long as we could, which ended up being I think three years. |
| Jodi: | What's going to be our distinguishing characteristic? |
| Dave: | Probably at some point some of the people in the company and I suspect a lot of people outside the company were wondering "You don't have this anymore, how are you going to survive, how are you going to compete with other people who are just like you?" Well part of how we thought about it was other people weren't just like us. What were we founded on? What was our founding principal? Our founding principal was independence; helping people stay living independently. So people stayed at SCAN. They became advocates for SCAN to their friends. We expanded into other counties; always with this mission being the thing that was driving us to grow. I think we really did accomplish a lot. |
| | *At home: Knocking |
| Woman: | "Just a minute." |
| Visitors: | "Hi." "Nice to see you." "Hello." * |
| Jodi: | SCAN was the forerunner. You know it's a pretty sweet outcome from what started as a group of older adults advocating for change and then growing into everything you see today. |
| | *In classroom: |
| Instructor: | "Tell me if you know what it's like to be 70 years of age or 75 years of age."* |
| Victor: | The irony is that it's become an exemplar. This is the system that other people look at when they're trying to solve their community service problem. |
| Jodi: | Across the 40 years we've really been true to our mission; we've been true to ourselves. We really try to do the right thing for people. |
| Chris: | SCAN has stayed true to focusing on seniors and to focusing on the most frail seniors. Through Insights, through Connecting Provider to Home, through the C-MEDS program, so that the footprint of SCAN is beyond our 190,000 members. The future is bright. We're contributing to the science of geriatric care and there's just a momentum at SCAN now. |
| Sam: | Today, 40 years later, I'm a member of SCAN. So is my wife. And we still believe that SCAN has always been about how to keep our members healthy and independent. |
| Dave: | An idea of a bunch of people thinking that they could change the world. And they did. |
| Sam: | SCAN was special. SCAN is special. |
| Chris: | So that elegant mission. That very noble mission that those 12 angry seniors came up with 40 years ago is very relevant now and even more relevant for the future. The best days of SCAN are in front of us. |
About SCAN
Keeping Seniors Healthy and Independent. That's been the SCAN mission since the organization was founded in 1977.
We began when a group of senior activists in Long Beach, California got together, determined to improve access to the care and services they needed so they could stay as independent as possible. They brought together experts in medicine, gerontology, psychology and social services and formed the not-for-profit Senior Care Action Network, now known as SCAN.
Today we deliver on our mission through a variety of divisions and services including: SCAN Health Plan, Independence at Home, and various community benefit programs throughout our California service area. We invite you to learn more by clicking on the links below.

Meet the Team.
Meet the SCAN board of directors and company management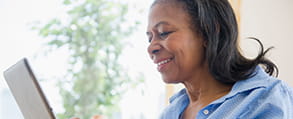 Press Room
Press Releases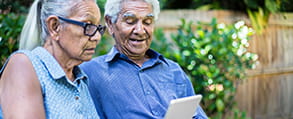 Independence at Home
A SCAN community service providing vitally needed services and support to seniors, disabled adults and their caregivers.

Careers
We invite you to explore the career opportunities at SCAN