Let Tech Kickstart Your Health and Fitness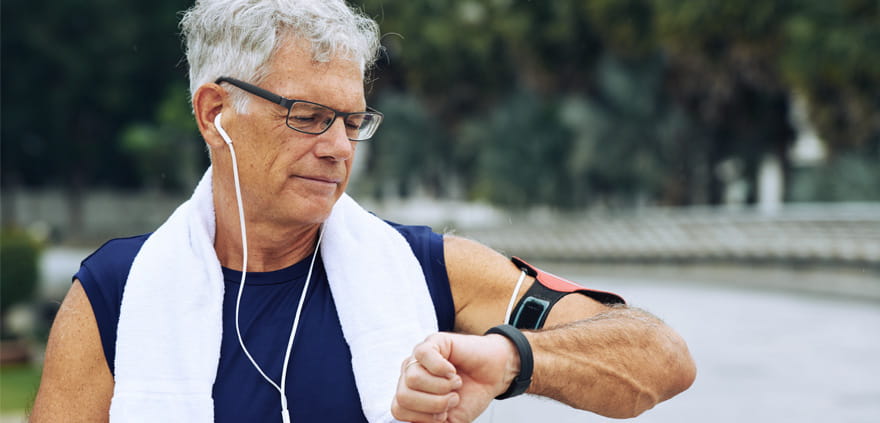 Even with the COVID-19 vaccine, we are likely months away from being able to return to our pre-pandemic lifestyles. Take advantage of the following low-to-no-cost programs and tools available to SCAN members to get started working toward your fitness goals for the new year.
SilverSneakers
Gyms may be closed and fitness classes cancelled, but your no-cost SilverSneakers benefit still offers many ways to stay active.
SilverSneakers Live: Enjoy virtual classes and workshops from home, directly through the SilverSneakers website.
SilverSneakers On-Demand: Choose from a library of workouts to watch when you want.
Live classes on Facebook: SilverSneakers instructors host classes on Facebook that you can watch live or later on.
If you're not online, call and ask for one of four SilverSneakers Steps at-home kits: either general fitness, strength, walking or yoga.
Rally
Rally is an online fitness program that offers personalized recommendations based on your health and lifestyle goals. You can even connect with other Rally users through online communities. Get started with Rally in your SCAN online member account.
Fitbit
Many SCAN plans include a fitness tracker benefit— meaning you can order a free Fitbit once every two years. Sync it with Rally to track progress toward your 2021 health and wellness goals. Order yours at scanhealthplan.com/fitbit. (This benefit is not available on all SCAN plans.)
BrainHQ
For fitness of another kind, BrainHQ provides online mental exercises tailored to help you improve your attention, memory and more—and there's no additional cost to all SCAN members. Sign up at scan.brainhq.com.
Virtual Care Visits
An important part of fitness is staying well and keeping up-to-date on your preventive care. If you're not able to see your doctor in person, opt for a virtual visit from your computer, tablet or smartphone.
Got an urgent issue or need care after hours? SCAN members have a Telehealth benefit that offers 24/7 access to a doctor from MDLive. This is a great alternative to an urgent care visit, and there's no copay. Call MDLive at 1-888-993-4087 (TTY: 800-770-5531), or schedule a visit online at members.mdlive.com/scanhealthplan.
Home Delivery From Express Scripts Pharmacy®
What could be better than getting the medications you take all the time conveniently to your home? Saving money, too! Express Scripts Pharmacy is the only delivery pharmacy that offers a 3-month supply of Tier 1 and Tier 2 medications for $0 for many SCAN plans*—and Preferred pharmacy pricing on many other medications. Sign up at StartHomeDelivery.com or by phone at 1-866-553-4125.
SCAN Online Account
Did you notice that many of these tools can be found in a SCAN online member account? If you haven't already set up one, it takes just a few minutes to get yours. Get your account going at scanhealthplan.com/register.
* Other pharmacies are available in our network. 3-month $0 Tier 1 and Tier 2 home delivery medications from Express Scripts Pharmacy are not available for all SCAN plans. Check your Evidence of Coverage or call Member Services to find out.
A Tech Support Hotline--Just for SCAN Members
Call SCAN HEALTHtech when you need help using technology for health-related reasons. For example, if you:
Aren't sure how to do a virtual visit with your doctor
Want to register for a SCAN online member account
Need help connecting your Fitbit to Rally
The experts at SCAN HEALTHtech are just a phone call away: 1-833-437-0555, 24/7. There is no cost for this service.