COVID-19 Magnifies Caregiver Challenges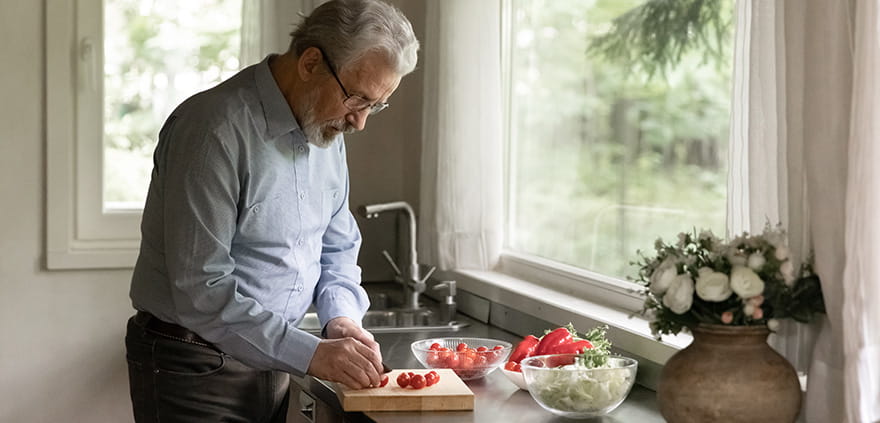 Before COVID-19, Paul wouldn't have said that being the sole caregiver for his wife, Irma, was necessarily easy. Irma's Alzheimer's had advanced so that she needs constant help and attention. But much of the support that he relied on to help manage Irma's care stopped during the pandemic and has been slow to restart. Paul has struggled to manage the extra responsibilities, and it's taking a toll on his physical and mental health.
Like Paul, many caregivers found the challenges of caring for a spouse, a parent or another loved one were magnified by the pandemic. After all, family caregivers are often providing support for older adults with chronic conditions or disabilities—the people most at risk of COVID-19.
At the same time, caregivers were cut off from much of the support they counted on before the pandemic. That means they are doing more personal care and household chores, while also taking on some of the more clinical tasks usually performed by trained professionals. All with little or no relief.
It's no wonder that family caregivers report being more anxious, depressed and tired since the pandemic began. They also report having more trouble sleeping, less social contact, greater food insecurity and more financial worries.*
If you're a caregiver feeling the strain of caring for a loved one, we encourage you to reach out to find the support you need. Here's where to start …
Use Your SCAN Benefits and Website
Some SCAN plans include a respite care benefit. This is for the unpaid caregiver to a SCAN member. It provides 40 hours of caregiver relief services a year. Learn more about this benefit at scanhealthplan.com/extras; then click on "Caregiver Support Benefit." To find out if your plan includes respite care, check your plan materials or call SCAN Member Services.
Also on our website: scanhealthplan.com/caregivers-and-family. This page includes information and links to trusted organizations. To find specific services near you, click on "Community Connections" and enter your zip code. There's a wide variety of services and support to connect with.
Connect With Caregivers
Talking with other caregivers can help you feel less alone. Connect by phone, in an online chat room or by joining an ongoing support group. Here are a few places to begin:
The Caregiver Action Network Caregiver Help Desk: 1-855-227-3640. Caregiving experts are available from 5 a.m. to 4 p.m. PT to answer questions or lend a listening ear.
The Family Caregiver Alliance website: caregiver.org. Here you can find a caregiver support group near you, as well as many resources and articles for family caregivers.
Take Advantage of Technology
When COVID-19 put a stop to in-person meetings, technology stepped in to keep us connected. But if you find it intimidating or just plain frustrating to use technology for health-related purposes, SCAN HEALTHtech can help. Give the hotline a call. There's no cost and they have the same schedule as you do: 24/7.
HEALTHtech hotline: 1-833-437-0555 (TTY: 711)
Find Condition-specific Insight
Many organizations that focus on a particular health issue provide condition-specific caregiving tips on their websites. For example, you'll find information specific to caring for a loved one with Alzheimer's on the Alzheimer's Association website: alz.org.
SCAN also offers a series of podcasts on caregiving. scanhealthplan.com/podcasts
*Family Caregiving During the Pandemic (pubmed.gov.ncbi.nlm.nih.gov)