Podiatry
Most plans offer routine foot care to help keep your feet in tip-top shape.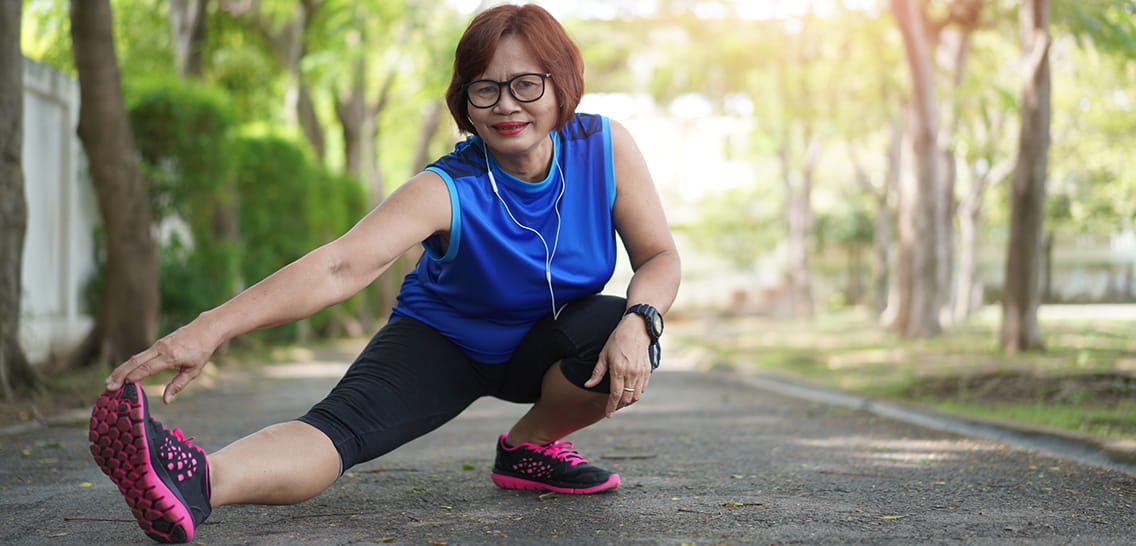 SCAN offers routine foot care for most plans.
SCAN covers routine podiatry services that usually aren't covered by original Medicare. This routine care includes services such as removing calluses and trimming toenails.
SCAN works with Podiatry Plan, Inc. to provide our members with routine foot care.
Here's how to schedule an appointment for routine podiatry care:
Find a contracted Podiatry Plan, Inc. specialist near you (a printed directory is available upon request).
Call the doctor's office directly. Let them know you're a SCAN member wanting to make an appointment for routine care.
If You Need More Than Routine Care
If you're having problems with your feet, such as pain, injury, numbness or tingling, talk with your regular doctor first.
Symptoms like these can be signs of a medical condition that needs to be treated and your doctor might decide to refer you to a podiatrist that works with your medical group.
Coverage and copayments for routine podiatry care and medical podiatry care can be different. So when making an appointment for foot care, make sure the doctor you're going to see is the right one for the care you need.
Contact Podiatry Plan, Inc.
To learn more about Podiatry Plan, Inc. or to talk to a representative, call: 1-800-367-7762 To find a provider,
Frequently Asked Questions about the Podiatry Benefit
Q: What care is considered "routine" care?
Basically, routine care includes the services you need on a regular basis to keep your feet in good health, but that you might not be able to take care of on your own.
These services include:
Cutting or removing calluses and corns
Trimming, cutting, or clipping of toenails
Other hygienic and preventive maintenance care not related to an injury or illness
SCAN contracts with Podiatry Plan, Inc., and its network of podiatrists to provide these services to SCAN members.
These routine services can help keep your feet in good health when done along with regular maintenance at home, such as:
Wearing comfortable shoes that fit well
Washing and drying feet well every day and after exercising, and applying moisturizer at night to prevent cracking
Doing exercises, such as Achilles stretches and balance exercises, to strengthen muscles and maintain flexibility
Not smoking, maintaining a healthy weight and managing your diabetes if you have it
Q: Isn't podiatry care covered by my regular Medicare benefits?
Routine preventive podiatry care is not covered by original Medicare unless a person has been diagnosed with diabetes.
SCAN offers these routine services in some of our plans as an extra benefit beyond what's covered by traditional Medicare. You will need to check your particular plan to see if routine podiatry services are covered.
Q: How do I find a foot specialist?
You can either call Podiatry Plan Inc. at 1-800-367-7762 or visit their website.
A printed directory of specialists is available upon request.
Q: There's a foot specialist in the same medical group and building as my regular doctor. Can I see him for my routine foot care?
You'll need to visit a doctor in the Podiatry Plan, Inc., network in order to take advantage of the routine podiatry benefit through SCAN.
But, it's possible the podiatrist in your doctor's building is one of Podiatry Plan's contracted providers. Find out by visiting their website, clicking on Find a Provider and then typing in the name of the doctor.
Q: It's so uncomfortable when I walk these days; it feels like I'm stepping on marbles or rocks. Should I see a doctor or is this just part of getting older?
Foot pain is not a given of getting older and should not be ignored.
Talk with your primary care doctor about your symptoms. There's likely something that can be done to help you feel better now and help you avoid further problems, such as falling and hurting yourself.
Your doctor can also check to see if the pain is being caused by something more serious.
Q: I already have an appointment to see my regular doctor for my annual checkup. Can I just ask her take care of a corn that needs to be removed during my appointment?
You can certainly ask your doctor to examine your corn, but most likely, your corn will need to be removed by a foot specialist.
If you have diabetes, you may be referred to a podiatrist within your medical group's network of specialists. If you don't have diabetes and your corn is just causing you a little discomfort, you can find a podiatrist through your routine podiatry benefit.
Q: How much does it cost for me to see a podiatrist for routine care?
If your plan covers routine podiatry care, your cost is $0. You can see a podiatrist through Podiatry Plan, Inc. for routine care up to six times per year.
Check your Evidence of Coverage for your plan to find out what your cost, if any, will be.
Q: How often can I get see a podiatrist for routine care?
The number of visits allowed for routine podiatry care depends on your plan.
Look in your Evidence of Coverage to find out how many visits are covered by your plan.