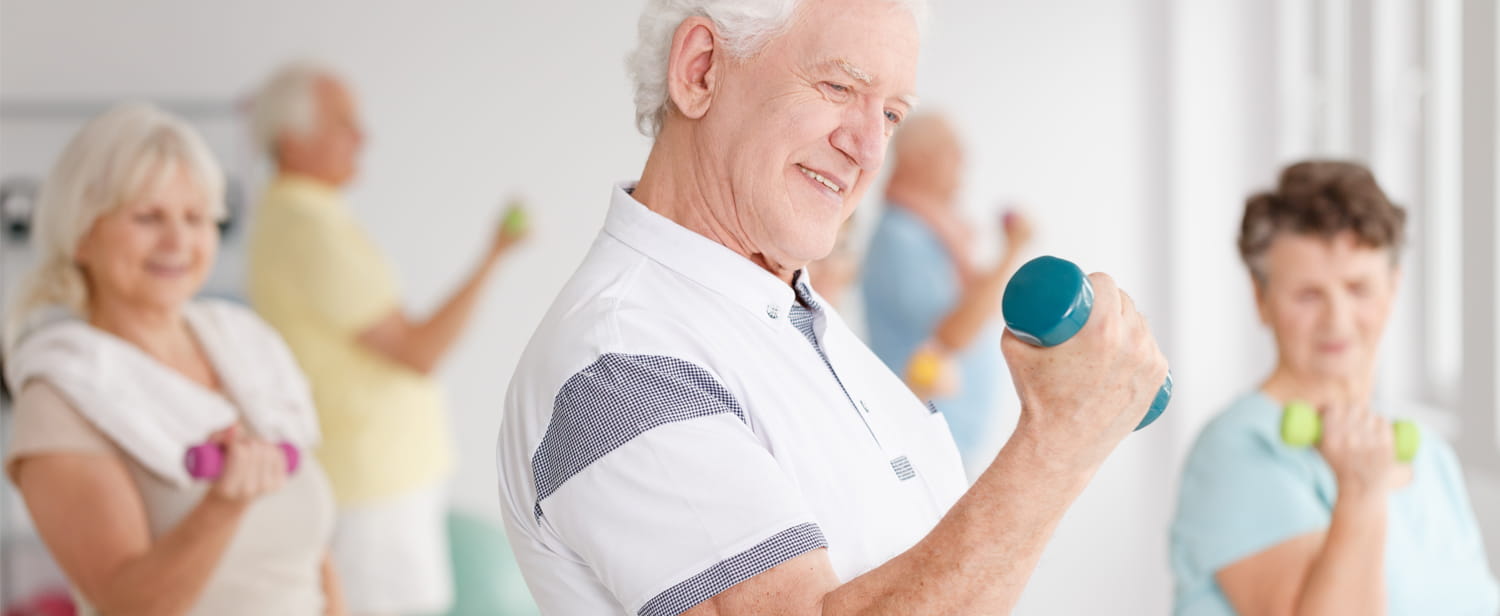 Fitness Membership (SilverSneakers)
SCAN offers a fitness benefit through SilverSneakers® for most plans.
SilverSneakers is a fitness benefit (health club membership) that can help improve your health and well-being with regular exercise.
SilverSneakers offers access to locations nationwide (including women-only locations) where you can use equipment and take group exercise classes. It also provides online and on-demand classes for at-home workouts.
There are several ways to use your SilverSneakers membership. Choose one or try them all:
At fitness locations. Your SilverSneakers membership gives you access to more than 13,000 fitness locations* across the country with all basic gym features and SilverSneakers fitness classes designed specifically for active older adults.
In places you may already go. SilverSneakers FLEX classes, like tai chi, yoga, Latin dance and walking groups—are offered in parks, recreation centers, older-adult living communities and other neighborhood locations. You can take FLEX classes and still go to SilverSneakers fitness locations.
At home or on the go. SilverSneakers Steps® includes a choice of four kits—general fitness, strength, walking and yoga—for use at home or when traveling.
Online. The SilverSneakers website allows you to look up fitness locations, find and enroll in FLEX classes, download healthy meal plans and recipes, access their library of online workouts and videos, and interact with the SilverSneakers community.
SilverSneakers isn't available for all SCAN plans. Check your Evidence of Coverage to see exactly what your plan includes.
Frequently Asked Questions about the Fitness Membership (SilverSneakers)
Q: Is SilverSneakers a gym?
SilverSneakers isn't a gym. It offers classes for older adults and access to thousands of participating gyms throughout the country. In fact, you may already belong to a gym with the SilverSneakers program; be sure to ask a gym staff member.
To find a SilverSneakers location, visit the Silver Sneakers website.
Q: How much does SilverSneakers cost?
If your plan includes the SilverSneakers benefit, there is no cost to you.
Q: How does SilverSneakers work?
Once your SCAN membership starts, you'll have access to thousands of SilverSneakers-participating gyms all over the country. To find a SilverSneakers location, visit the SilverSneakers website.
Once you're at the gym, you'll have full use of the equipment and facilities, including locker rooms, weights, cardio machines, pools, hot tubs and saunas, depending on the location.
You can take part in special SilverSneakers fitness classes, like circuit training, yoga, cardio-fit and water aerobics.
Your membership includes standard fitness facility services. Any services that typically require an additional fee aren't included.
You'll also have access to the SilverSneakers FLEX program that offers over 70 types of fitness classes in locations outside of the gym.
Q: Do I need to bring a SilverSneakers ID card to go to the gym?
You can get your SilverSneakers ID number (and an ID card, if you'd like one) by visiting SilverSneakers and filling out the membership form.
Many gyms should be able to check your eligibility and to look up your 16-digit SilverSneakers ID number for you as well.
Q: Which locations can I use?
There are over 13,000 participating SilverSneakers locations across the country. You're not limited to one location—you can sign up at as many as you like.
For example, if there are three fitness centers participating in the SilverSneakers program in your neighborhood, you can use weights or exercise machines at one location, swim in the pool at another location and take a SilverSneakers or FLEX class at the third location.
To find a location near you, visit the SilverSneakers website.
Q: What if I have a gym membership already?
If you're a member at a participating SilverSneakers location, speak to the staff to see if your regular gym membership can be frozen. That way you can take advantage of your free gym membership.
Q: What kinds of SilverSneakers FLEX classes are there?
Yes, SilverSneakers classes are led by credentialed fitness professionals and each class is designed by an expert in senior fitness. Modifications and chairs are also offered so that members of all ages, fitness levels and abilities can safely participate.
Q: Should I see a doctor before I enroll?
Yes, it's always a good idea to speak to your doctor before beginning an exercise program and find out what level of activity he or she recommends for you.
Yes! SilverSneakers is offered at over 13,000 participating locations across the country, and your membership gives you access to any of them at any time. Just make sure that your new gym participates in the SilverSneakers program.
* At-home exercise kits are available for SilverSneakers members, including those who have a disability, are recovering from a medical procedure or illness, live in a rural area or experience traffic difficulties and can't make it to a fitness center.