Prepare for Your Care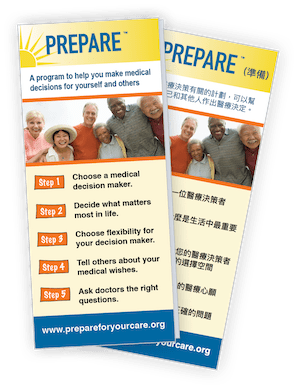 Protect Your Dignity With an Advance Directive

As we've learned from COVID-19, a life-threatening illness or accident can happen at any time and to even the healthiest person. That's why it's important to have an advance directive in place, no matter your age or health. An advance directive also helps ease the burden on loved ones, who may be called on to make hard decisions if something happens to you and you can't speak for yourself.

Creating an advance directive doesn't have to be complicated. Follow these five steps:

1) Choose a "healthcare proxy." This is someone you trust to make serious decisions about your healthcare in case you can't.
2) Identify what's important to you. For example: Do you want heroic measures taken to prolong your life? Are there religious beliefs you want respected in your care?
3) Talk with your loved ones and healthcare proxy so they clearly understand your wishes.
4) Complete an advance directive form. If you have access to a computer, you can easily create your advance directive from home.
5) Give copies of your advance directive to your primary care doctor and healthcare proxy. Keep a copy with your other important medical papers, too.

Where to get help creating an advance directive:
• The website prepareforyourcare.org has a simple form to use as well as videos and information to guide you step by step through the process.
• "Are You Prepared?" is an hour-long virtual course available to SCAN members the last Tuesday of every month. Find out more at scanhealthplan.com/events.