SCAN Announces Q1 And Q2 Community Giving Grant Recipients
Date Posted: 07/19/2017
Funding to 13 California Non-Profits Totals $190,000 and Supports Community-Based Services for Seniors and Caregivers
LONG BEACH, Calif.—July 19, 2017—
SCAN
, a leading senior-focused organization with the mission of keeping seniors healthy and independent, announced it provided 13 grants totaling $190,000 in the first half of 2017 to community organizations supporting senior health and independence throughout California. Recipients of these grants serve seniors through nutrition, critical services and emergency assistance. The funding helps these organizations continue to deliver these crucial services and expand program support.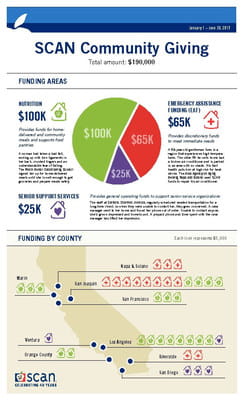 "Community giving is a cornerstone of SCAN's culture and we're honored to provide financial support to organizations that make a positive difference in the lives of seniors and their caregivers," stated Chris Wing, CEO of SCAN. "We applaud the work of these organizations, which enhance access to nutrition and vital social services within their communities and in many cases do so on an individual level."
In keeping with its non-profit mission and through its grassroots partnerships, SCAN provides direct funding to organizations in an effort to help bridge the gaps between community need and available resources. Whether helping to ensure the continuation of home-delivered meals and adult day programs, or administering emergency assistance grants so a case manager may pay a utility bill that enables a senior to remain at home, SCAN funding supports those working on the front lines of senior health and wellness.
SCAN's 2017 Q1 and Q2 community giving grants were awarded to the following organizations, specifically for the continuation and delivery of the services indicated below:
Alzheimer's San Diego—caregiver support workshops and a volunteer-based respite program

Area Agency on Aging Serving Napa and Solano—one-time only financial support to older adults faced with unexpected expenses

Catholic Charities Stockton—assistance to seniors requiring additional resources to remain living independently and safely in their homes

Catholic Charities Ventura—bilingual and bicultural case management for low income and frail seniors

Christian Outreach Appeal—materials needed to host senior wellness days

Community Action Partnership of Orange County—Farm 2 Seniors project, which provides fresh produce for food insecure seniors

Family Service Association—one-time only financial support to older adults faced with unexpected expenses

Human Services Association—meals for home-delivery and at congregate meal sites

Lodi Memorial Hospital Foundation—scholarships for adult day services

Marin Senior Coordinating Council—delivery of meals to homebound seniors, including those who suffer from life-threatening illnesses

Meals on Wheels of San Francisco—home-delivered meals and meals at congregate sites

PSA 11 Area Agency on Aging—meeting the nutritional needs of seniors and providing financial support to older adults faced with unexpected expenses

St. Barnabas Senior Center (SBSS)—at-home meals and meals at congregate sites
"We are grateful for SCAN's partnership and generous support of SBSS, which helps us meet the nutritional needs of seniors in our community," said Rigo J. Saborio, President & CEO, St. Barnabas Senior Services. "SCAN's financial support for non-profits is critical in helping to ensure that every older adult ages in place and thrives in the community.
Non-profits throughout California are eligible to apply for SCAN community grants. Applications may be submitted year round and grants are made quarterly. To learn more about SCAN's grant giving, please visit www.IndependenceAtHome.org/community-giving About SCAN
About SCAN
SCAN is a not-for-profit organization committed to keeping seniors healthy and independent. That's been our mission since our founding in 1977. Today we deliver on that mission through SCAN Health Plan, one of the largest not-for-profit Medicare Advantage plans in the nation. Independence at Home, a SCAN community service, provides vitally needed services and support to seniors, disabled adults and their caregivers. SCAN also offers education programs, community funding, volunteer opportunities and other community services throughout our California service area. To learn more, visit scanhealthplan.com or facebook.com/scanhealthplan or follow us on twitter @scanhealthplan.
###
Media Contact:
Havas Formula
Alison Flood
619-234-0345
scanhealth@havasformula.com
Y0057_SCAN_10419_2017 IA 07142017