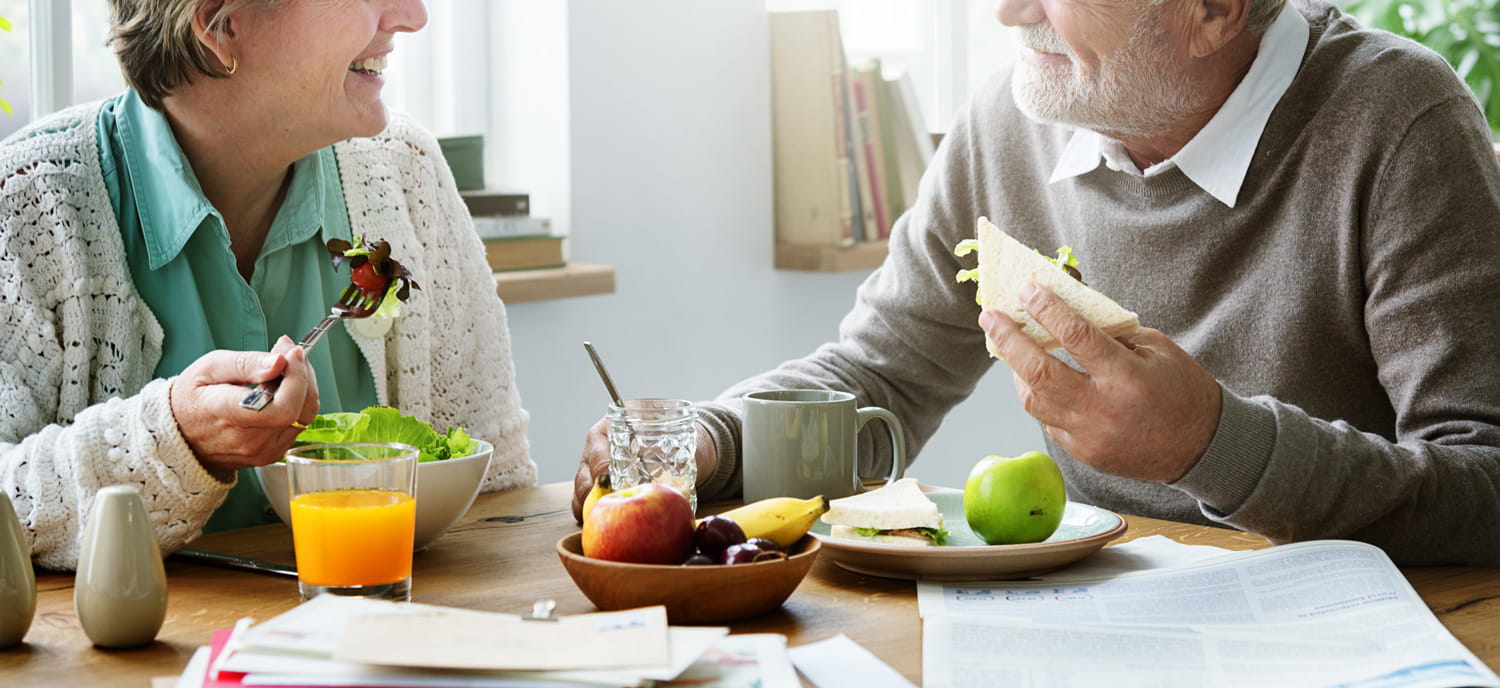 Living Well with Diabetes
Whether you've been recently diagnosed with diabetes or have been treating it for years, you're not alone.
More than 30 million people in the U.S. have either type 1 or type 2 diabetes. That's one out of every 10 Americans!1
Type 1 diabetes is when your body doesn't make insulin on its own, while type 2 diabetes is when your body doesn't make or use insulin well. Click here to learn more about the different kinds of diabetes.
Older adults are particularly at risk: More than half of people age 65 and older have a greater chance of developing diabetes.2
Diabetes is a way of life. There's no cure yet, but people with diabetes can learn to manage their diabetes so they can be healthy, feel good and do the things they enjoy now and in the future.
What You Can Do
Talk with your doctor about the following things you can do to manage your diabetes and avoid other problems that could harm your health.
Check your blood sugar regularly. Self-test regularly at home with finger pricks and have an A1c1 test in your doctor's office at least every three to four months.
Make healthy decisions at every meal. Fill your plate with a variety of natural foods. Avoid processed foods and limit the amount of alcohol you drink. Click here to learn more diabetic diet and nutrition tips.
See your doctor for tests and screenings for people with diabetes. Click here to learn more about diabetes tests and checkups.
If your doctor prescribes medication, take it as prescribed—even if you're feeling good. Click here to learn more about diabetic medications.
Be physically active. Get at least 30 minutes of activity five times a week. Physical activity can even include walking, talking the stairs or gardening. Click here to learn more about diabetes and exercise.
Quit smoking. Smoking is more dangerous for people with diabetes. Click here to learn more about the impact smoking has on people living with diabetes.
Take care of your mental health. Older adults with diabetes are more likely to become depressed and develop dementia.3  Click here to learn more about diabetes and mental health.
Learn more about diabetes and how to stay healthy. Take advantage of the many resources and support available in person and online through community organizations, such as the American Diabetes Association.
SCAN Is Here to Help, Too!
We offer support, useful tools and benefits to help you keep your diabetes in check:
The annual Health Check Record with personalized information and a chart for tracking your care. The Health Check record arrives in the mail every year. If you've registered your online SCAN member account, you can view your online record at the SCAN member portal. The online record is customized just for you and it's updated monthly.
If you haven't registered your online SCAN member account, click here.
A blood sugar diary where you can keep track of your blood sugar levels and share them with your doctor. Click here to download a blood sugar diary.
Special diabetes editions of SCAN Club with useful information on health and benefits for our members with diabetes
Coverage in all SCAN plans for regular exams, recommended screenings, diabetes medications and blood glucose monitors and related supplies prescribed by your doctor (copayments vary)
Not Sure if You Have Diabetes?
Surprisingly, one out of four people with diabetes doesn't know he or she has it! Eighty-six million Americans (one out of three) have prediabetes.4 This is when blood sugar levels are higher than normal but not high enough to be diagnosed with type 2 diabetes. Prediabetes is serious and puts you at increased risk of developing type 2 diabetes, heart disease and stroke.
If you're experiencing symptoms—such as dizziness, blurred vision, dry mouth or having to visit the bathroom often—ask your doctor as soon as possible for a blood test to check for diabetes.
Find out more about your risk of developing type 2 diabetes here.
More Resources
These online services can give you information and tools that can help you manage your diabetes. You will also be able to talk to other people with diabetes. Talk to your doctor about classes or support groups they might be able to refer you to. 
Programs and Classes
Support Services
Educational Events
The American Diabetes Association offers free educational Ask the Experts Q&A series—click here or call 1-855-565-0595 for more information.
Miscellaneous
1https://www.cdc.gov/diabetes/basics/type2.html
2http://www.diabetes.org/advocacy/advocacy-priorities/prevention/preventing-diabetes-in.html
3http://care.diabetesjournals.org/content/35/12/2650
4https://www.cdc.gov/media/releases/2014/p0610-diabetes-report.html