Personal Alert
A Personal Emergency Response System provides help at the push of a button.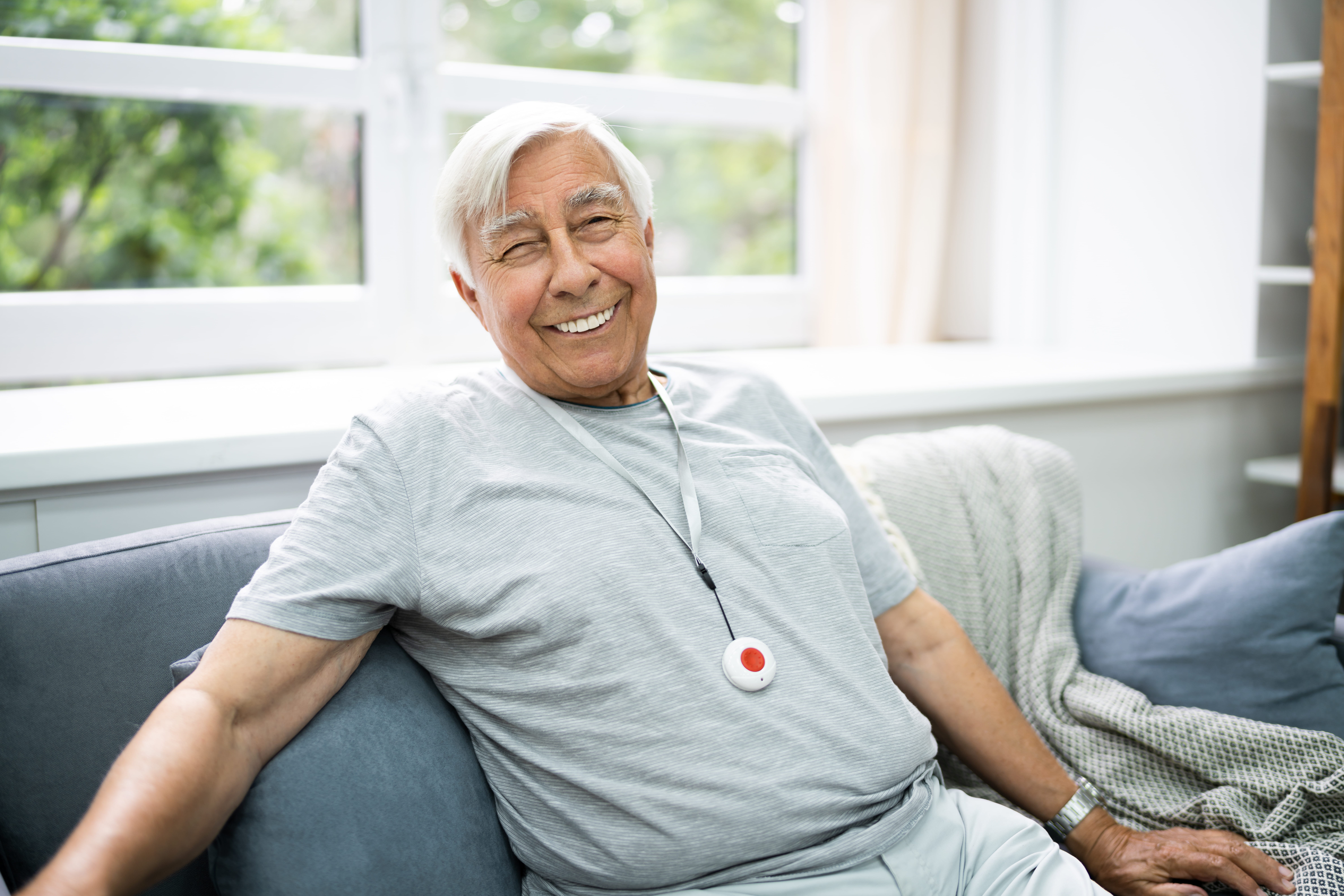 SCAN offers an emergency response benefit for many plans.
With SCAN's Personal Emergency Response System (PERS) benefit, you and your loved ones can have peace of mind that help is just a push of a button away if you were to have a medical emergency while at home or out.
PERS includes:
A light-weight monitoring device that you wear around your neck
Twenty-four/seven emergency GPS monitoring
Two-way communication between you and an emergency operator
Specific criteria are required in order to receive this benefit. The emergency response benefit isn't available in all plans. Please check your Evidence of Coverage to see if the benefit is included in your plan.
Keep caregivers and family members informed.
You now have access to the Connect America Notify app at no cost. This app is linked to your PERS unit and can alert your caregivers and family members in case of an emergency.
Contact SCAN
To find out more about this benefit or to order your PERS unit, call SCAN Member Services: (800) 559-3500 TTY: 711
Frequently Asked Questions about the Emergency Response Benefit
Q: How does the PERS work?
SCAN works with a company called Connect America to provide you with the PERS. Once approved, Connect America will send you:
A PERS unit, lanyard and charging cord
Simple step-by-step instructions explaining how to set up and use the system
Once your PERS unit is fully charged, wear it at home or on the go. If you fall or need help, push the emergency button on the unit.
The PERS unit immediately alerts Connect America that you need help and connects you with a trained emergency response operator who will communicate with you through a speaker and microphone in the unit.
The operator will determine your situation and send the help you need. He or she will also alert any family members or other loved ones you've said you want to be called during an emergency.
Q: Does the emergency button work when I'm away from home?
Yes. The PERS unit provides Connect America location information that tells them where you are.
Q: Do I need a special type of phone line?
No. The device is GPS enabled and can be used wherever there is a cellular signal.
Q: In an emergency—should I push my emergency response button or call 911 instead?
In the event of an emergency, you should always call 911 if you're near a phone. You can use the PERS unit when you aren't able to get to a phone to call for help.
Q: What kind of emergency help do I get?
That depends of what kind of emergency you're having. The operator will determine the type of help you need.
Q: Is it hard to set up the system?
It's easy to set up and use your PERS.
Just follow the simple set of instructions included with your device. Once the setup is done and your PERS unit is fully charged, you can start using it.
Q: Is there a cost for the service?
SCAN provides the basic PERS and the ongoing monitoring service free of charge to members with SCAN plans that include the PERS benefit.
Please check your Evidence of Coverage to see if the benefit is included in your plan.
Q: I have a pacemaker. Can I use the PERS unit?
The back of the device and charging cable both contain magnets and should be kept away from devices affected by magnetic fields, such as credit cards, computers, watches and other electronic devices. You should check with your doctor before using the device.
Q: How do I get the Connect America Notify app?
You can download Connect America Notify from the Apple Store® for iPhones and from Google Play™ for Android™ phones. It can also be downloaded for use by multiple caregivers and loved ones.
Q: What can Connect America Notify do in addition to emergency alerts?
In addition to alerting your loved ones to an emergency, the Notify app can also:
Check the battery life of your PERS device
Show alert details to caregivers and loved ones
Store and update your emergency contact list