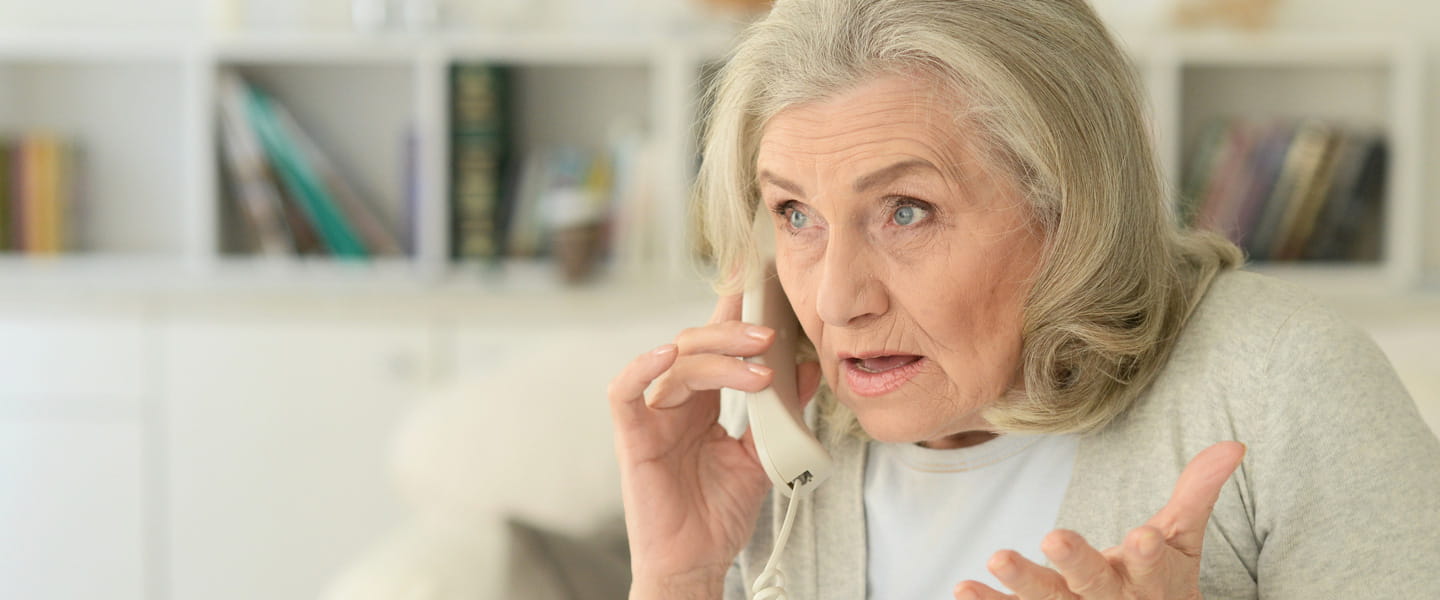 Beware! There are a growing number of scams related to COVID-19 and COVID vaccines. The information below has information on how to protect yourself against frauds.

For details and updates on COVID frauds, click here.
Protecting Yourself from Fraud
Anyone can become a victim of identity theft and fraud, with seniors being a favorite target of many of the scams today.
You can protect yourself and those you love by being aware of how these scams work.
How Scams Work
There are many different scams and, unfortunately, new ones are always appearing.
While the methods might differ, they all have the same goal: To get ahold of and use the victim's personal information for bogus purposes.
The scammer may steal money from your bank account, ask you to funnel money from another victim, use your Social Security information to steal your identity, make purchases on your credit card or file fraudulent claims on your insurance.
A scammer might contact you on the phone, present attractive offers on Facebook, send you an email or even show up at your front door. He or she might pretend to be from the IRS, your doctor's office, SCAN or another company you do business with. They might offer you something for free or at a price that seems too good to be true—because it is!
Here are some of the most common scams today:
Lottery/sweepstakes scams. You get a call from someone saying you've won a prize. Good news, right? Wrong, because the person then tells you that in order to collect the prize, you need to first send personal information or pay taxes, security fees, customs duties or lawyers' fees.



Never send money to claim a prize; never provide personal information before doing some research first.

A new variation on this scam is that someone emails you to say that he's won a prize and needs you to travel to a foreign country to help him collect it. This person will pay your travel expense, but in exchange, he asks you to return home with a package or a suitcase to deliver to another person.

Don't fall for it—the package may contain funds from another victim or drugs that you're unknowingly bringing into the country.

Tip: You can find out more about scams at the National Council on Aging's website; type "scams" into the search box.
Romance scams. You've made a special connection with someone on Facebook or an online dating site, like Match.com. This person has gained your trust by writing long messages over the course of weeks or months, and now she's asking you to send money or share your credit card information.


Don't be fooled by sweet talk! Anyone can open a Facebook or dating site account and claim to be whoever they want to be. People can easily post photos of a total stranger they find online to make their profiles seem more convincing.

Do your research on this person by googling her name to see if she's who she says she is. If you're on Facebook and have mutual friends with your online romance, check in with some of them to see if her story checks out.

Tip: Try a reverse photo search to potentially see if they have a more extensive profile available online.
Phone scams. You get a call from someone claiming to be from the IRS or Social Security Administration saying you owe money. Government agencies do not provide notifications by phone.



Or maybe the caller says he or she is a friend or relative needing money because they're hurt or in trouble. Many unsuspecting grandparents across the country have been tricked in "The Grandparent Con," where scammers pose as a grandchild in trouble, pleading for money to be sent to help him or her.

Tip: Hang up and call your children and grandchildren directly.

Computer tech support fraud. You may get a call or you may see an online ad from someone who looks like your computer tech support company. Don't give out your username or password to anyone you don't trust and remember that your tech support company is not likely to call you.



Tip: Hang up and don't click on the ad. Phone the number on your computer tech support company's website and speak to a representative to see if the call you received or the ad you saw is legitimate.
Other financial scams.
Grief scams. You or someone you know has just lost a loved one when a stranger appears claiming the deceased owes him or her money.



Scammers read obituaries and then approach grieving relatives demanding fake debts be paid.

Investment schemes. A company or individual contacts you offering to arrange to have your home's value reassessed to lower your taxes or to help you get a reverse mortgage.
If you agree, they can use your information to put money in their pockets.
Tip: If you're being targeted in a financial scam, contact your county's Adult Protective Services for assistance.
Your Medicare and Health Insurance Are Targets, Too
You know how valuable your Medicare benefits and health insurance coverage are to you?
Scam artists know they're value, too, and they work hard to find ways to use your benefits to put money in their pockets.
Like all of the scams listed above, healthcare fraud can hurt your financial security.
When a scammer files a bogus claim using your insurance, you could be left with a bill or copay for services or equipment that you never receive. This kind of fraud also drives up the cost of healthcare in general, which affects us all.
Just as important is that this kind of fraud can put your health at risk: You could be denied a benefit if a fraudulent claim was already made for that service.
Check out at these real-life examples of how you could become a target of healthcare fraud:
A health fair vendor asks if you have pain and asks for your Medicare ID.
Someone shows up at your door and says she has been sent by your health plan but you were not informed in advance.
You answer the door and it's someone who says Medicare offers a new benefit and enrolls you in hospice care.
A person who says they're from your health plan asks you to sign papers to stay with the same plan.
Guard your personal information. Possibly your best protection against falling victim to fraud is to never, ever share your personal information with anyone you don't know.
That includes your:
Social Security Number
Driver's license number
Bank account and credit card number
Health insurance information, such as your Medicare and SCAN ID numbers
Birthdate, address or phone number
Know before they show. If someone shows up at your door claiming to be from somewhere you trust, ask to see identification and ask them to come back later, after you've had the chance to verify.
Don't give out information on the phone or on the internet until you're sure they're who they say they are.
Keep an eye on your accounts. Closely check your credit card statements and your Explanation of Benefits statements you receive from your health plan. Report any charges you don't know about to the helpline number shown on the statement immediately.
To learn more, see Resources below.
Frequently Asked Questions about Fraud Schemes
Q: How can I be sure someone is who they say they are?
A scammer might already know your name or have found some other information about you. They might have the right logo of a company you do business with on their materials.
If you don't know the person or didn't make contact first, take the time to check them out. Ask to examine their identification. Tell them you need to do some research on your own before making any decisions.
Then, look up the company's information and contact them directly. If someone says they've been sent by your doctor or your health plan, call your doctor's office or your health plan, to confirm they're who they say they are.
Be wary of anyone pressuring you to make a decision quickly.
Q: The caller ID shows that I'm getting a call from the "U.S. Department of Health and Human Services Office of Inspector General." Does that mean it's okay to answer it?
Better to just let it ring. Scammers have become so sophisticated that they've even figured out how to make it appear that the caller ID is coming from a government hotline.
The government will never use a hotline to make an outgoing call. So, if you do answer the call, and it's someone claiming to be from the government's Health and Human Services Department or another government agency, hang up and report it by calling the Federal Trade Commission at 1-877-438-4338.
Q: My late husband always took care of doing our taxes so when I got a call from someone from the IRS saying we owed $5,000 and threatened to take our house, I sent the money. Now I realize it was a scam! It's been months since it happened but I am so ashamed I haven't even been able to tell my kids what I've done. How could I have been so foolish?
It might help to know first that there are many people of all ages and all kinds who, like you, have been a victim of a scam.
Scammers are often professional criminals skilled in tricking people to make decisions and take actions they might not usually. There's no shame in being a victim of a crime.
By reporting what happened to the authorities, you might be able to recoup some of your losses and you'll be doing your part to prevent the crooks from getting away with it again.
For more information, see Resources below.
Q: There's a charge on my credit card statement that I didn't make. Who should I contact?
Call the customer service number listed on your credit card statement or on the back or the back of your card right away.
Take steps to protect yourself from credit card fraud:
Carry only the cards you need each time you go out and leave all others in a safe place at home. Don't leave your card with anyone or let anyone borrow it.
Shred statements, unused credit offers and other papers that contain your personal information before throwing them away.
Bring in your mail right away. Never leave bill payment envelopes out for the mail carrier or write your account number on the outside of an envelope.
Review bills and account statements regularly to make sure transactions are legitimate.
It's a good idea to review your credit history every year to make sure it's accurate. You can request a free copy of your credit report each year online at annualcreditreport.com or by calling 1-877-322-8228.
If you or someone you know has been the victim of a scam, you can report it to the following organizations:
In most instances of suspected elder abuse, including financial exploitation, contact Adult Protective Services by using the Eldercare Locator at eldercare.acl.gov or by calling 1-800-677-1116.
For cases of identity theft or phone/email scams, contact the non-emergency line of your local police and the Federal Trade Commission at 1-877-438-4338 or identitytheft.gov.
For internet scams, file a report with Internet Crime Complaint Center at www.ic3.gov.
For health care scams, contact your health plan's Member Services. You can also report suspicious activities related to your Medicare benefits by calling 1-800-MEDICARE.
If you're a member of SCAN Health Plan, contact Member Services:
1-800-559-3500 (TTY: 711)
Hours:
April 1 – Sept. 30, 8 a.m. – 8 p.m., Monday – Friday
Oct. 1 – March 31, 8 a.m. – 8 p.m., seven days a week
Messages received on holidays and outside of normal business hours will be returned within one business day.
Or email them.