Physical Activity
Including physical activity as part of our daily routine is important as we age. When we're physically active, we:
Ease arthritis pain and symptoms.
Strengthen bones and improve balance, which reduces the risk of falls and fractures.
Manage chronic conditions by lowering the risk of heart disease and high blood pressure.
Improve mood and sleep and even delay the onset of dementia.
Talk to your doctor about an exercise routine that works for you and your health goals. Once you have your doctor's "prescription for exercise," contact your local senior center to find out about free or discounted exercise classes.
Getting fit doesn't have to cost money! Click here to check out these free ways to be active in and out of the house: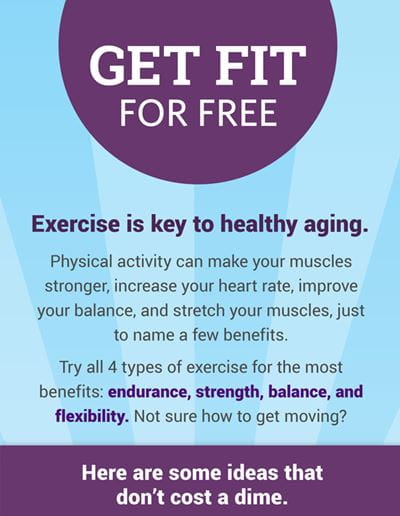 SilverSneakers®
Click here to learn more about the SilverSneakers benefit your plan may offer and to find your locations near you.
Go4Life®
National Institute on Aging website that provides tips, resources and tools for seniors and caregivers about nutrition, exercise, fall prevention and safety and motivation. Includes printable tip sheets, exercise videos and goal tracker.
Exercise and physical activity guide for fitting exercise and physical activity into your daily life. To order a free Spanish guide, click here.
More Physical Activity Resources
Helping Older Family Members Become More Active
Woman and Physical Activity (Office of Woman's Health)
Exercises to help reduce your risk of falling:
Exercise to Improve Balance handout - Go4Life
Chair Rise Exercise (aka "Chair Stands")
Strength and Balance Exercise - AHA
Fall Proof at Home Video Order Form
Click here to learn more about preventing falls and maintaining your mobility and independence.