Home Safety / Fall Prevention
Category: Information & Resources


Did you know...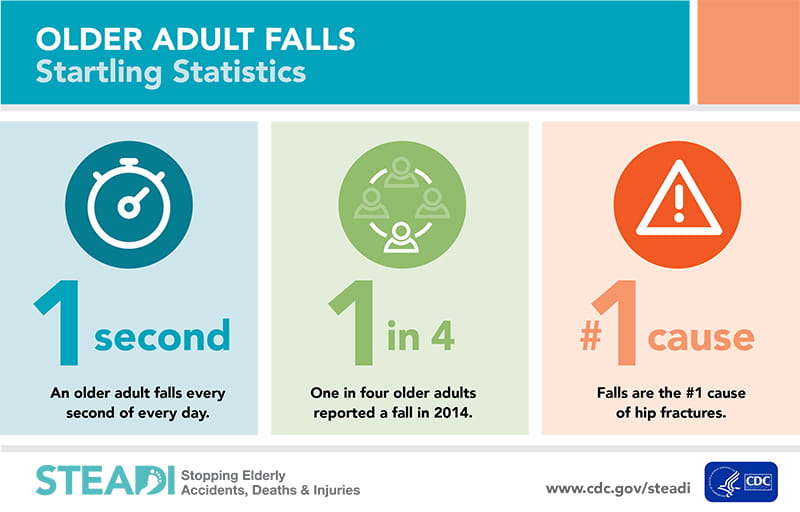 Review tips below for keeping your home safe and reducing the chance of a serious fall. Speak with your doctor about falls. Your doctor can assess your risk for falls. Your doctor can talk to you about fall prevention techniques and strategies including proper gait, home safety, and provide a review of medications that may contribute to falls. Print this form and take it with you to your next doctor's appointment to help start the conversation about falls.
Check for Safety: A Home fall Prevention Checklist for Older Adults
This Checklists safety hazards that may exist in different rooms of your home.
English (PDF)
Spanish (PDF)
Chinese (PDF)
A Home Safety Checklist for Alzheimer's Disease
Use the following room-by-room checklist to alert you to potential hazards and to record any changes you need to make to help keep a person with Alzheimer's disease safe.
What You Can Do to Prevent Falls
Many falls can be prevented. Read this to find out more about changes you can make that can help you lower your chances of falling.

English(PDF)
Spanish(PDF)
Chinese (PDF)


Preventing Falls and Fractures Age Page
Information about common causes of falls, tips to help avoid falls, and home safety.

English(PDF)
Spanish(PDF)


Additional Information
How to Talk to Your Doctor About Falls: Tips on what to tell your doctor about your falls and the right questions to ask during your appointment.
Protect Your Loved Ones From Falling:
Many Falls Cause injury, loss of independence, and in some cases, death. Falls can be prevented. Read this to get tips about how you can help as a caregiver.
What to Do When a Fall Happens:
Provides steps to take if you fall or if you witness a fall, including how to get up and communication with your doctor.
Exercises
Fall Prevention Programs
Below are links to information about specific fall prevention programs.
To find fall prevention classes in your area use the Eldercare Locator, a public service of the U.S. Administration on Aging. It can connect you to services for older adults and their families. Click here and enter your zip code to find local organizations that can help you find specific resources, including fall prevention classes, in your area. You can call the Eldercare Locator at 1-800-677-1116.
A Matter of Balance is a program designed to reduce the fear of falling and increase activity levels among older adults. It includes 8 two-hour sessions for a small group of 8-12 participants led by a trained facilitator. This nationally recognized program was developed at the Roybal Center at Boston University.https://mainehealth.org/healthy-communities/healthy-aging/matter-of-balance
Fallproof™ Balance & Mobility Program was developed at California State University, Fullerton. Classes are held in community settings throughout the United States and Canada. Balance and gait assessments are provided to determine the most suitable training program. The group-based program is available for individuals identified as low-to-moderate risk for falls.
http://hdcs.fullerton.edu/csa/Programs/programs_fallproof.htm
Stay Active & Independent for Life" (SAIL) SAIL Seminars specializes in the dissemination of an evidence-based fall prevention program for older adults called "Stay Active & Independent for Life" (the SAIL Program). The SAIL Program is a strength, balance and fitness class for adults 65+.
Emergency Response System
Tunstall
1-866-435-2617
www.tunstall.com
Discount for SCAN members
LifeStation
(866) 286-5161
https://www.lifestation.com/
ADT Home Health
(888) 543-9948
https://www.adt.com/new-media/health-security