You Have Star Quality with SCAN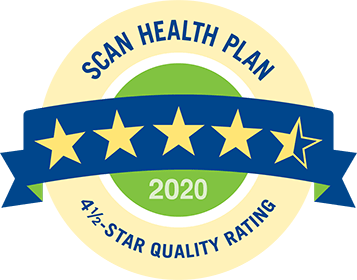 SCAN is pleased to be awarded 4.5 out of 5 stars by Medicare on many SCAN plans for 2020.* This is the third year in a row that SCAN has earned 4.5 stars.
We work hard with the doctors and healthcare providers in our network to ensure our members get the preventive care and services that will help them stay healthy. When it comes to your coverage, that's how it should be.
This constant focus on quality is one reason why SCAN is among the highest-rated Medicare Advantage plans in California this year.
Why These Ratings Matter
Knowing each plan's quality ratings can help consumers compare Medicare Advantage plans to find the one that best meets their needs. When you see that we've earned 4 or more stars from Medicare for the past seven years* or that U.S. News & World Report calls SCAN one of the best Medicare Advantage plans for 2020, you can be confident about our commitment to providing outstanding benefits of real value to SCAN members.
Look Beyond The Stars
Quality ratings are important but they're just one thing to consider when looking at health plans. Talk with family, friends and other people you trust about their experiences. See a health plan as its members do by looking at survey results and ratings. SCAN's 90 percent rating on Medicare.gov, for example, is from member feedback.
The recognition SCAN receives for its member service also speaks to a commitment to quality service and putting members first.
The more information you have, the easier it will be to find the plan that's best for what matters most to you.