Statin Use in Persons with Diabetes (SUPD)
Clinical Basis
Evidence supports the use of moderate-intensity statin therapy in persons with diabetes who are 40 to 75 years of age.2 For example,in adults with diabetes without cardiovascular disease, moderatedose statin therapy reduced the relative risk for cardiovascularevents by 27 percent per 38.7mg/dL LDL-C reduction.3
Because diabetics are at high risk for cardiovascular disease, the revised standards of medical care recommend statins for diabetics older than 40 years of age.4

Exclusions
Moreover, individuals with comorbidities experience greater morbidity and worse survival rates after the onset of clinical ASCVD. In persons with diabetes who are younger than 40 years of age or over 75 years of age or whose LDL-C is < 70mg/dL, statin therapy should be individualized on the basis of four considerations:
ASCVD risk-reduction benefits
Potential for adverse effects
Drug drug interactions
Patient preferences1
The ACC/AHA guideline recommends moderate- or high-intensity statins for patients with diabetes.1
Clinical Guidelines
Simplify the treatment regimen if possible.
Explain the rationale of treatment to patients.
Implement one or more medication adherence management tools from Lipids.org: https://www.lipid.org/CLMT.
High-, Moderate- and Low-Intensity Statin Therapy
Intensities for statin therapies are distinguished by high, moderate or low as indicated in the following table5: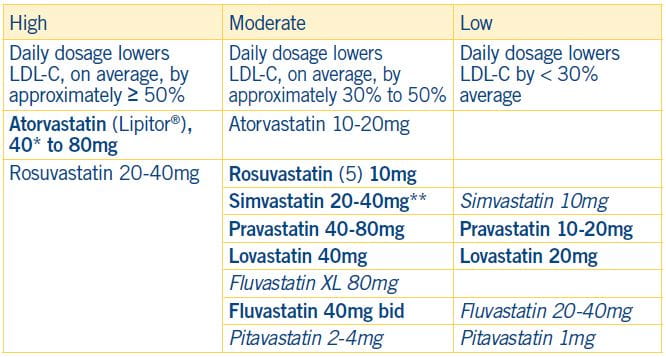 Notes: Statins and doses shown in bold and italics are explained as follows:
Bold: These are statins and doses that were evaluated in random controlled trials (RCTs) (17,18,46-48,64-67,69-78) included in CQ1, CQ2 and the CTT 2010 meta-analysis included in CQ3 (20). All of these RCTs demonstrated a reduction in major cardiovascular events.
Italics: These are statins and doses that are approved by the U.S. Food and Drug Administration (FDA) but were not tested in the RCTs reviewed are.
Additional notes:
Individual responses to statin therapy varied in the RCTs and should be expected to vary in clinical practice. There might be a biological basis for a less-than-average response.
Evidence from one RCT only; down-titration if unable to tolerate atorvastatin, 80mg, in Incremental Decrease through Aggressive Lipid Lowering study.
Coding and Documentation Guidance
Statin use is determined through medication claims data, and no physician coding is required.
However, it is important to document discussions with patients regarding the need for statins.
In addition, documentation regarding compliance or non- compliance with prescribed treatment should be done at the time of the office visit and also when medication reconciliation is performed.
Use G9664 for patients who are currently statin therapy users or received an order (prescription) for statin therapy.
1Kidney damage is defined as abnormalities on pathological, urine, blood or imaging tests.
22013 ACC/AHA Prevention Guideline on the Treatment of Blood Cho- lesterol to Reduce Atherosclerotic Cardiovascular Risk in Adults, A Re- port of the American College of Cardiology/American Heart Association Task Force on Practice Guidelines. Circulation. 2014;129:S1-S45
3Cholesterol Treatment Trialists' Collaboration, Kearney PM, Blackwell L, et al. Efficacy of cholesterol-lowering therapy in 18,686 people with diabetes in 14 randomised trials of statins: a metaanalysis. Lancet 2008;371:117–25
4Pharmacy Quality Alliance (PQA). Statin use in persons with diabetes. Springfield (VA): Pharmacy Quality Alliance (PQA); 2015
* Evidence from 1 RCT only down-titration if unable to tolerate atorvastatin 80mg in IDEAL (47).
** Although simvastatin 80mg was evaluated in RCTs, initiation of sim- vastatin 80mg or titration to 80mg is not recommended by the FDA due to the increased risk of myopathy, including rhabdomyolysis.
5 Adapted with permission from Stone NJ, Robinson JG, Lichtenstein AH, et al. 2013 ACC/AHA guideline on the treatment of blood cholesterol to reduce atherosclerotic cardiovascular risk in adults: a report of the American College of Cardiology / American Heart Asso- ciation Task Force on Practice Guidelines. Circulation. 2014;129(25 suppl 2):S13. Visit http://www.aafp.org/afp/2014/0815/p260.html for additional information.