Rheumatoid Arthritis Management
Clinical Basis
Rheumatoid arthritis (RA) is the most common autoimmune inflammatory arthritis in adults. RA has a significant negative impact on the ability to perform daily activities, activities – including work and household tasks – and health related quality of life and it increases mortality.1

Common Exclusion: A diagnosis of HIV (HIV value set) any time during the member's history through Dec. 31 of the measurement year.
Clinical Guidelines
For a comprehensive review, see the 2015 ACR Guideline for the Treatment of Rheumatoid Arthritis at rheumatology.org.
Confirm RA diagnosis versus osteoarthritis or joint pain.
Use ICD-10 codes, such as M25.5, for generalized joint pain while the pain is being investigated. Use ICD-10 codes M05.- and M06.- once RA is confirmed.
Refer patients to a rheumatologist to confirm diagnosis and/or co-management.
If RA diagnosis is incorrect, contact the medical group to rectify.
Prescribe a DMARD when patients have diagnosed with RA. A sample DMARD dispensed in the office will satisfy the measure, but you must record in the medical record that a DMARD was dispensed. IMPORTANT: The record must include all of the following:
Prescriber's signature
Drug name
Strength, days' supply
Dispensed date
For more from the American College of Rheumatology, visit http://www.rheumatology.org/Practice-Quality/Clinical-Support/.
Disease Modifying Anti-Rheumatic Drugs
The following medications are prescribed for managing rheumatoid arthritis.1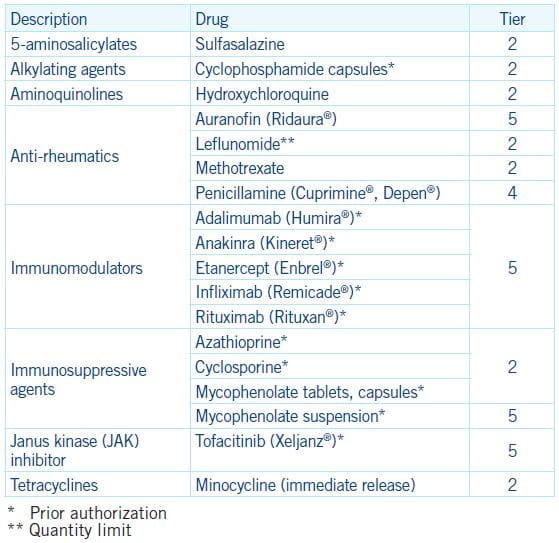 Coding and Documentation Guidance
Document the prescription of DMARDs and submit code 4187F.

For a summary of AHRQ's comparative effectiveness review of drug therapy for rheumatoid arthritis (RA) in adults—an update, see J. Managed Care Pharm, 2012 May 18 (4 Supp C): S1 – 18, Singh JA1, Cameron.
1Arthritis Care & Research DOI 10.1002/acr.22783 2015, Traditional Cardiovascular Risk Factor Management in Rheumatoid Arthritis Compared to Matched Non-Rheumatoid Arthritis in a US Managed Care Setting, American College of Rheumatology: 2015 American College of Rheumatology Guideline for the Treatment of Rheumatoid Arthritis, Singh et www.rheumatology.org 2015 guidelines
Rheumatoid Arthritis Tip Sheet (PDF)