Osteoporosis Screening in Women Who Had a Fracture
Clinical Basis
Women who suffer a fracture are at increased risk of suffering additional fractures. Morbidity and mortality related to osteoporotic fractures are a major health issue.

Bisphosphonates should be used as a first-line pharmacologic treatment for osteoporosis (evidence rating A).1
In patients who cannot tolerate or whose symptoms do not improve with bisphosphonate therapy, teriparatide (Forteo®) and denosumab (Prolia®) are effective alternative medications to prevent osteoporotic fractures (evidence rating A).
Clinical Guidelines
Target high-risk women and schedule screening with DEXA.
For women who have had osteoporotic fractures, request a nurse review to help schedule the DEXA and/or initiate prescription.
Decrease the dosing Treatment with longer intervals between doses is more convenient for patients.
Encourage counseling with nurses. Multiple counseling sessions with nurses showed the greatest improvement in adherence. 2
Ensure no prior authorization is needed for the DEXA scan.
Arrange for mobile DEXA for homebound patients.
When clinically appropriate, initiate a one-month trial of the prescription.
Coding and Documentation Guidance
Do not use traumatic or stress fracture code for historical fracture or pathological fracture.
Pathological fractures (current) due to osteoporosis are coded using the M80.0 section of the ICD-10-CM.
Ten million Americans have osteoporosis and another 18 million are at risk for osteoporosis due to low bone mass.3 Eighty percent of people with osteoporosis are women.4
Osteoporotic Fractures: Additional Notes
Treatment of osteoporotic fractures is estimated at $10 to $15 billion annually in the United States. In 1995, osteoporotic fractures caused 432,000 hospital admissions, 2.5 million physician visits and 180,000 nursing home admissions. The aging U.S. population is likely to increase the future financial cost of osteoporosis care.
One study showed that fewer than 5 percent of patients with osteoporotic fractures are referred for medical evaluation and treatment.5
Another retrospective study of over 1,000 postmenopausal women who sustained a fracture of the distal radius found that only 24 percent received either a diagnostic evaluation or treatment for the condition.6
Osteoporosis Drugs
The following medications are prescribed for managing osteoporosis in women 67 to 85 years of age who have suffered a fracture.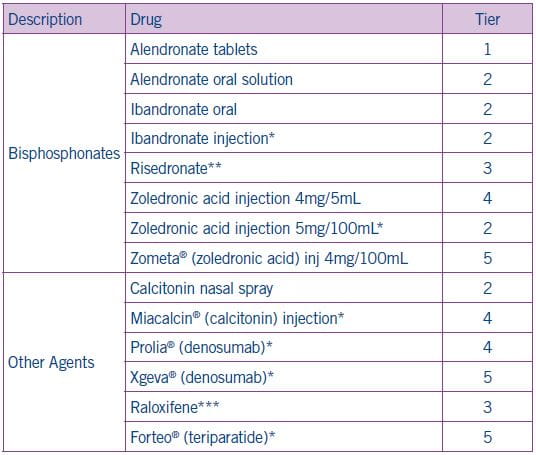 * Prior authorization
** Step therapy
*** Quantity limit
Interventions to improve adherence and persistence with osteoporosis medications: A systematic literature review7 highlights the importance of follow-up interactions with members and the role of patient counseling in helping to improve adherence.
1For a general discussion of evidence rating systems, visit the American Academy of Family Physicians website at http://www.aafp.org/afpsort.
2Cook PF, Emiliozzi S, McCabemm. Telephone counseling to improve osteoporosis treatment adherence: an effectiveness study in community practice settings. Am. J. Med. Qual. 22, 445–456 (2007)
3National Institutes of Health [NIH] Consensus Development Panel on Osteoporosis Prevention, Diagnosis, and Therapy, 2001
4NIH Consensus Development Panel on Osteoporosis Prevention, Diagnosis, and Therapy, 2001
5NIH Consensus Development Panel on Osteoporosis Prevention, Diagnosis, and Therapy, 2001
6Stephen & Wallace, 2001). Evidence for Rationale: National Committee for Quality Assurance (NCQA). HEDIS 2016: Healthcare Effectiveness Data and Information Set. Vol. 1, narrative. Washington (DC): National Committee for Quality Assurance (NCQA); 2015. Various pages
7Gleeson T, Iversen MD, Avorn J et al. Interventions to improve adherence and persistence with osteoporosis medications: a systematic literature review. Osteoporosis. Int. 20, 2127–2134 (2009)