Medication Adherence
Clinical Basis
Doctors cite poor medication adherence with diminished health benefits of pharmacotherapy.1 Patients with multiple medical conditions often require treatment with multiple medications, increasing the risk of non-adherence.

How to talk to your patients:
Ask open-ended questions to determine if your patients understand why they have been prescribed a certain medication and how to take it.
Assess whether your patients are actually taking the prescribed medications properly. Ask the following questions:
In the last month, how many times have you missed taking your medication?
How are you currently taking your medication?
When was the last time you took your medication?
What side effects, if any, are you currently experiencing?
Do you sometimes not take your medication when you feel better?
Do you sometimes not take your medication because you're worried about side effects?
Show empathy and build trust:
Comments, such as "It's hard taking your medication when you don't feel like it's making you any better," can help build trust, which can help improve patient adherence.
When patients trust you, they are more likely to reveal whether they are taking their medications or not.
Set expectations. Make sure your patients understand what the medication is for, what its preventative effects are and how long they will need to take the medication.
Ask your patients which medications need additional refills.
Refer to the table below for solutions based on your patients' barriers to adherence.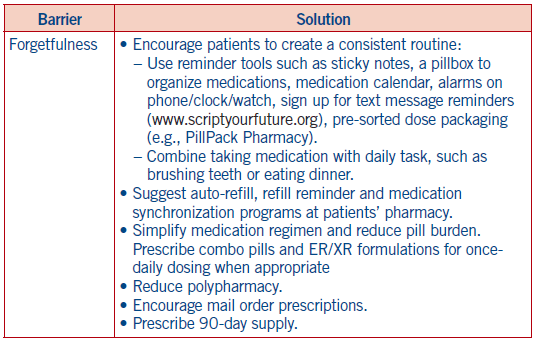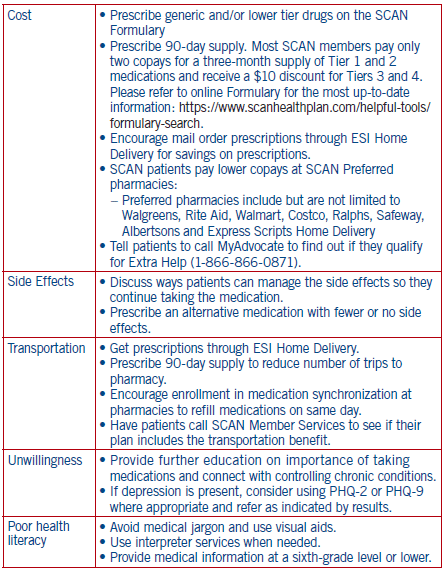 Medication Adherence Tip Sheet
1Lee JK, Grace KA and Taylor JA, Effect of a Pharmacy Care Program on Medication Adherence and Persistence, Blood Pressure, and Low-Density Lipoprotein Cholesterol A Randomized Controlled Trial, JAMA December 6, 2006, Vol 296, No. 21