Getting Appointments and Care Quickly
CAHPS Asks Patients In the last six months:
When you needed care right away, how often did you get care as soon as you thought you needed it?
Not counting the times when you needed care right away, how often did you get an appointment for your healthcare at a doctor's office or clinic as soon as you thought you needed?
How often did you see the person you came to see within 15 minutes of your appointment time?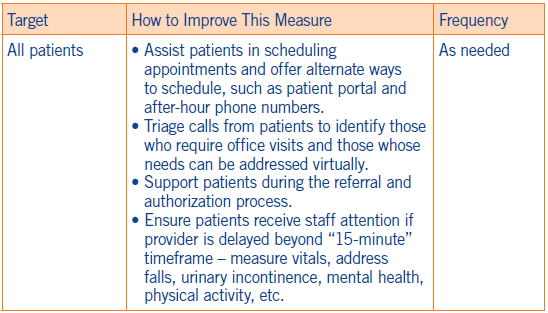 Clinical Guidelines
Ensure a few appointments each day are available to accommodate urgent visits.
Maintain an effective triage system to ensure that frail and/or very sick patients are seen right away or provided alternate care via phone or urgent care.
For patients who want to be seen on short notice but cannot be seen by their doctor, offer appointments with a nurse practitioner or physician assistant.
Encourage patients to make their routine appointments for checkups or follow-up visits as soon as they can – weeks or even months in advance.
Address the "15-minute" timeframe by ensuring patients are receiving staff attention if provider is Measure vitals, engage in discussions related to HOS questions (urinary incontinence, fall risk, mental health, physical activity), etc.
Keep patients informed if there is a wait and give them the opportunity to reschedule.