Hello, Ventura County!
Enroll with SCAN for comprehensive coverage, more extras, and award-winning service.
We can help you find the benefits and coverage you need, plus more.
Search for plans in Ventura County.
Our Most Popular Plan
SCAN Classic (HMO) for Ventura County
2021 Features
SCAN Health Plan is with you every step of the way, providing plans and benefits that are designed to meet your current and changing needs.
$19 Lower monthly plan premium
$5 primary care office visits
$4,500 Maximum out-of-Pocket
$0 access to a "virtual doctor" 24/7 through SCAN's telehealth benefit
Worldwide and urgent care coverage available
NEW! Lower $25 insulin savings (30 day supply)1
$0 Tiers 1 & 2 for a 3-month supply through home delivery from Express Scripts PharmacySM
1Humalog®, Humulin®, Lantus®, Toujeo® through SCAN Preferred retail pharmacies and mail-order only.
Core benefits you can expect for 2021
SCAN Classic (HM0)
Acupuncture & Chiropractics
---
Copay Costs
Primary Care Office Visits
$5
Maximum Out-Of-Pocket (MOOP)
$4,500
Benefits
Inpatient Hospital Care
$350 (Days 1-5)
$0 (Days 6 and beyond)
Outpatient Surgery
Ambulatory Surgical Center - $250
Hospital Facility - $275
Skilled Nursing Facility
$0 (Days 1-20)
$145 (Days 21-100)
Durable Medical Equipment (e.g. wheelchair, walker, oxygen)
20%
Emergency Care
$90 ($0 if admitted immediately) - Worldwide
Urgent Care Services
$8 - Worldwide
Ambulance Services
$225
Specialist Office Visits
$10
Diagnostic Radiology Services (e.g. MRI, CT,ultrasound)
20%
Prescription Tier 1: Preferred Generic
Preferred: $2
Standard: $10
Prescription Tier 2: Generic
Preferred: $5
Standard $15
Prescription Tier 3: Preferred Brand
Preferred: $37
Standard: $47
Prescription Tier 4: Non-Preferred Drug
Preferred: $95
Standard: $100
Prescription Tier 5: Specialty Tier
Preferred: 33%
Standard: 33%
Free Seminars in Ventura County
Join us for a free virtual SCAN seminar to learn more about your coverage options, Medicare Advantage, prescription drug coverage and more.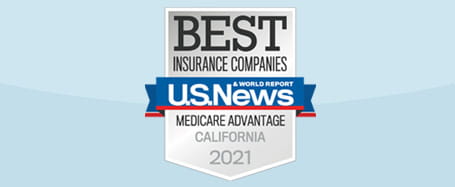 Ranked one of the Best Medicare Advantage Plans in California by U.S. News and World Report for the third year in a row!