Home Safety / Fall Prevention
Category: Information & Resources


Did you know...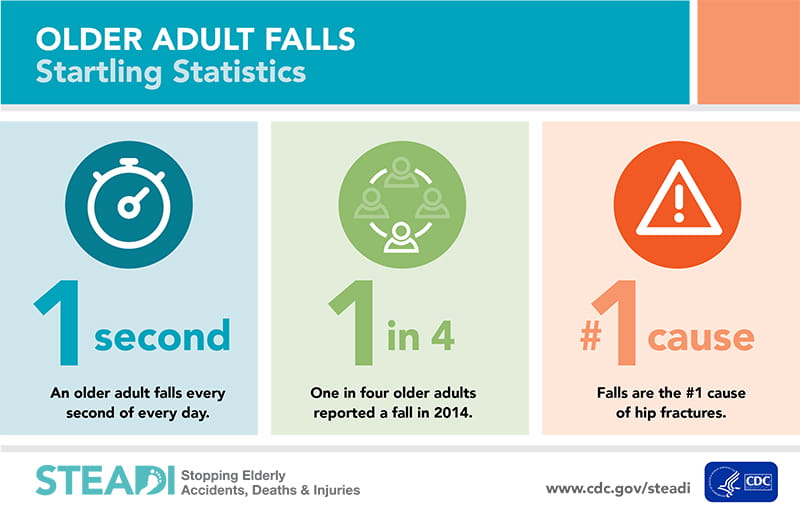 Review tips below for keeping your home safe and reducing the chance of a serious fall. Speak with your doctor about falls. Your doctor can assess your risk for falls. Your doctor can talk to you about fall prevention techniques and strategies including proper gait, home safety, and provide a review of medications that may contribute to falls
Check for Safety: A Home fall Prevention Checklist for Older Adults
This Checklists safety hazards that may exist in different rooms of your home.
English (PDF)
Spanish (PDF)
Chinese (PDF)
A Home Safety Checklist for Alzheimer's Disease
Use the following room-by-room checklist to alert you to potential hazards and to record any changes you need to make to help keep a person with Alzheimer's disease safe
What You Can Do to Prevent Falls
Many falls can be prevented. Read this to find out more about changes you can make that can help you lower your chances of falling

English(PDF)
Spanish(PDF)
Chinese (PDF)


Preventing Falls and Fractures Age Page
Information about common causes of falls, tips to help avoid falls, and home safety

English(PDF)
Spanish(PDF)


Additional Information
How to Talk to Your Doctor About Falls: Tips on what to tell your doctor about your falls and the right questions to ask during your appointment.
Protect Your Loved Ones From Falling:
Many Falls Cause injury, loss of independence, and in some cases, death. Falls can be prevented. Read this to get tips about how you can help as a caregiver.
What to Do When a Fall Happens:
Provides steps to take if you fall or if you witness a fall, including how to get up and communication with your doctor.