What's Ahead for 2022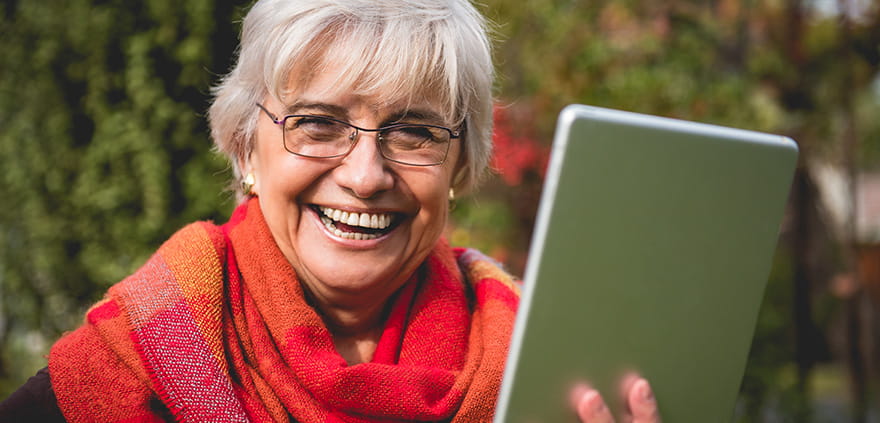 SCAN benefits are better than ever! If you've been a SCAN member for a year or more, you know how it works: Every year your benefits change somewhat. The Annual Notice of Change (ANOC) you receive in September outlines what's new or different for the coming year.
Of course, your SCAN plan includes much more coverage than what's listed in the ANOC. And more than we can include here. But we do want to call your attention to the "most" benefits: most-requested, most-popular and available in most SCAN plans.
New for 2022
These new benefits are available at no cost!
Abridge: This is a health app for your smartphone that records your doctor visits. No more taking notes or trying to remember all the details. Instead, you can listen to your discussion and the doctor's instructions again as needed. You can also share the information with other people involved in your care. Note: You will need a smartphone and Wi-Fi in order to download this app.
Solutions for Caregivers: We care for caregivers! SCAN Solutions for Caregivers was designed to help support unpaid caregivers. This benefit provides:
Caregiver coordination sessions
Home-delivered meals for up to 28 days
Note: Only the caregiver or the care recipient needs to be a SCAN member to use this benefit.
Solutions for Togetherness: Most of us have had enough isolation after the past year and a half. Solutions for Togetherness is designed to help SCAN members combat loneliness through:
Learning Communities—bringing like-minded people together for a variety of personal interest, education, or health and wellness classes.
Headspace—a popular mindfulness and meditation app. Use it to help counteract stress and anxiety and to help with sleep.
Improved for 2022
Vision: New flexible spending allowance makes for simpler coverage.
Transportation: We've included more rides in most plans.
Always Popular
SilverSneakers: Your $0 health club benefit proved to be much more than a gym membership during the pandemic. Members were able to take advantage of live virtual classes and a growing library of on-demand workout videos.
Telehealth: Another $0 benefit that was pandemic-proof! This benefit is a convenient, safe alternative to urgent care.
HEALTHtech: Your 24/7 tech-support hotline.
Available in some Southern California plans:
HEALTHtech +. Includes the 24/7 HEALTHtech hotline PLUS some in-home tech support, too.
BrainHQ: Have you tried this yet? It provides online exercises tailored to your brain to enhance memory, brain speed and more.
Chiropractic and Acupuncture: Your copay for these visits won't change, but the number of visits covered in 2022 will change in some plans. If you use these benefits now, check to see what may be different come January.
Hearing Aids: We continue to work with the hearing experts at TruHearing to offer you affordable, fixed-cost hearing aids for the same price as last year! Members consistently give their TruHearing experience top marks.
Personal Emergency Response System (PERS): This is great for peace of mind—both for you and those who care about you. PERS is available for $0.
Please note that not all benefits on these pages are available in all SCAN plans. So, check your Evidence of Coverage to see what's included in your specific plan. Or, call Member Services: 1-800-559-3500 (TTY: 711), seven days a week from 8 a.m. to 8 p.m. [Call-out]
If your call isn't urgent, we recommend calling later in the week and/or later in the day when the phones tend to be less busy. When you do reach a Member Service Advocate, you'll have their full attention. [Call-out]
Prescription Coverage
As always, you'll want to check our Formulary (list of covered drugs) to see if there are any changes for 2022 to the medications you take. Did any move up or down a tier, for example? Find the 2022 Formulary at scan2022.com/formulary.
Aside from that, there are three things to know about your prescription drug coverage in 2022:
Preferred pharmacies = lower copayments. While you can fill your prescriptions at any of the pharmacies in our network, you'll generally pay less at a Preferred pharmacy.
Mail-order = convenience. If it's hard getting to the pharmacy, the easiest way to get your ongoing medications is through home delivery from Express Scripts Pharmacy.
A three-month supply = savings. Save money and time by getting a three-month supply (up to 100 days) of the medications you take on an ongoing basis.
2022 Preferred Pharmacies
CVS
Express Scripts Pharmacy
Rite Aid
Walmart
Costco
Ralph's/Kroger/Fry's
Safeway/Albertsons
Many independent pharmacies
2022 Standard Pharmacies
Walgreens
Medicine Shoppe
Select independent pharmacies
What About Dental?
We know how valuable dental coverage is, which is why we've made improvements in many plans for 2022. This will be called out in your ANOC, so if you didn't take a close look before, do so now!
Your coverage will fall into one of these three categories:
Comprehensive care included; no added coverage needed.
Preventive care included; option to add more coverage.
No dental included; option to add coverage.