For information on SCAN's response to the coronavirus (COVID-19), click here. SCAN members: for resources and answers to frequently asked questions, click here.
Cold or Flu? How to Tell, and Why It Matters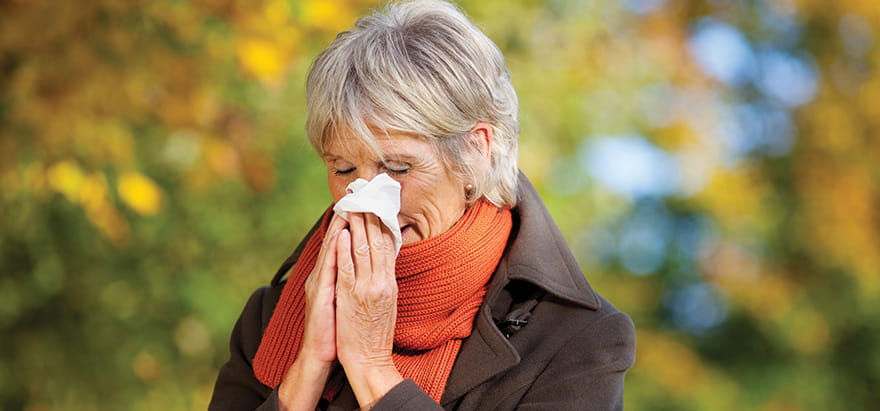 Sneezing and got a sore throat and a cough? It could be that you've come down with a cold or the flu. Both can make you feel much the same way so telling them apart can be tricky. But they're actually very different, and knowing which it is will help you know what to do next.
First, let's clear up a common misconception: A cold and the flu aren't the same. In fact, they're caused by completely different viruses. And while there are many different viruses that can cause the common cold, none of them can make you sick with the flu.
Flu's Clues
One way to figure if it's a cold or the flu is to think about how quickly you started to feel sick. If it's the flu, the symptoms will have come on right away. Colds are different—you probably started to feel bad gradually over several days. A cold can certainly make you feel terrible, but you'll usually feel much worse with a bout of the flu.
COLD VS. FLU IN ADULTS
| | | |
| --- | --- | --- |
| Symptoms | Cold | Flu |
| Symptom onset | Gradual | Abrupt |
| Fever | Rare | Usual |
| Sneezing | Common | Sometimes |
| Aches | Slight | Usual |
| Chills | Uncommon | Common |
| Sore throat | Common | Sometimes |
| Fatigue | Sometimes | Usual |
| Stuffy nose | Common | Sometimes |
| Cough | Mild to moderate | Common |
| Headache | Rare | Common |
Source: cdc.gov
Of course, there are times when a bad cold could leave you feeling exhausted. And a cold that turns into a sinus infection often may bring on a headache. Pay close attention to all your symptoms, so you can describe them to the doctor.
What to Do If It Looks Like the Flu
Most people get over a cold with rest, staying hydrated and using over-the-counter remedies. But if what you've got is the flu, you may need to see a doctor to keep it from getting worse. Call your doctor's office right away and describe your symptoms. He or she might have you come in for a special test. If it is the flu, your doctor may prescribe an antiviral medicine to help you feel better faster and protect you against flu-related complications. Studies show these flu antiviral drugs work best when started within two days of getting sick— another reason to see your doctor as soon as possible.
The best advice for dealing with the flu, though, is to avoid catching it in the first place. The most effective way to do this is to get a flu shot every flu season. You can get one at your doctor's office or your local pharmacy, usually with no copay.
Never had a flu shot or the flu? You're still better off getting the flu shot now. Here's why: The older we get, the weaker our immune systems become and the more likely we are to catch a bad case of the flu.
COLD TRUTHS AND FLU FALLACIES
There's still no cure for the common cold. Antibiotics fight bacterial infections, not viruses like the ones that cause a cold, so they will not help you get over a cold.
The "stomach flu" isn't really a flu. Who knows how it became known by this name, but the stomach flu is not a flu at all. It's really an infection in the intestines that causes diarrhea, nausea, vomiting and fever.