For information on SCAN's response to the coronavirus (COVID-19), click here. SCAN members: for resources and answers to frequently asked questions, click here.
Caregivers Need Care, Too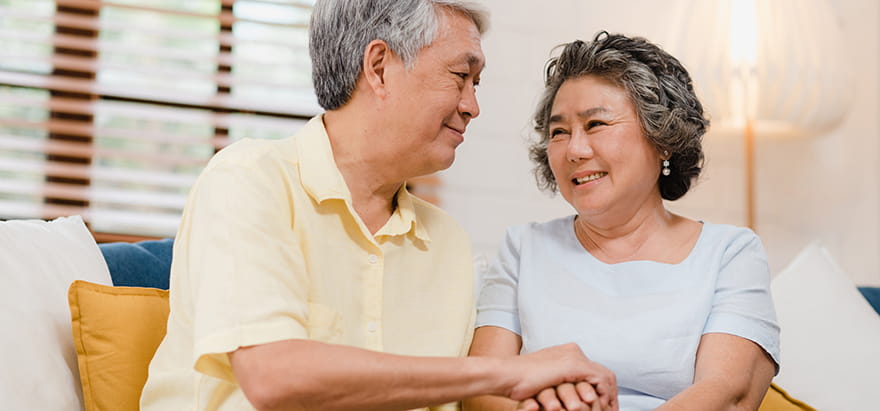 If you're caring for a spouse or other family member, taking care of your health and well-being is as important as the care you give your loved one.
Caregivers who readily give their time and energy to caring for a loved one are often the people who find it hardest to accept support so they can be healthy and happy, too.
"In many cases, we are seeing that caregivers end up sacrificing their own well-being when they should be able to live their best life," says Eve Gelb, SCAN senior vice president.
If you're a caregiver who's used to being independent and self-sufficient, it may not be easy to admit you need help, and even harder to ask for it. Being there for a spouse or family member can be rewarding, but providing care 24/7 can take its toll on your physical and mental health. And if you get sick, it can prevent you from being able to care for the person you love. Being honest and open about your challenges and accepting help from people who care can keep you healthy. And that can mean a better life for both you and your loved one.
Help Is Ready When You Are
Caregiving can sometimes feel like a lonely job, but it doesn't always have to be. Here's where to turn.
Family and friends—In many cases, they want to help but don't know how. Tell them what you're dealing with, and be ready with suggestions for ways they can help. Often, having others take care of a few simple things can make a huge difference. Plus, someone who understands what you're going through might be able to recognize signs of stress before you do. This can help you deal with things before they get worse.
Other caregivers—Consider joining a support group where people understand what you're going through because they are, too. Look for free support groups in your area at local hospitals, senior centers, churches and other community centers.
Online resources—Start by going to the Caregivers & Family page on the SCAN website. Click on Community Connections to be connected with a list of nearby services, including meal delivery and help with housework. SCAN also offers podcasts on caregiving at scanhealthplan.com/podcasts. From there, you can download the audio recordings to your computer or smartphone and listen when convenient for you.
Your healthcare team—Be open and honest with your doctor about the challenges you face and any symptoms you may have. If you're feeling down or anxious, or are having trouble eating or sleeping, talking with a mental health professional might help. Ask your doctor if a referral might be right for you. Some SCAN plans allow you to talk with a counselor without a referral; check your plan materials to find out if yours does.
CAREGIVER TIP: Make a new kind of holiday wish list.
Think of specific things that someone could do to lighten your load, like doing the grocery shopping or covering for an hour so you can get a haircut. Share your wish list with family members and friends so they can feel good about giving you something they can be sure you'll really appreciate.
If it's an emergency, and you're thinking about harming yourself or someone else, reach out for help right away!
Call 911 or a hotline like:
Institute on Aging's Friendship Line
1-800-971-0016
National Suicide Prevention Lifeline
1-800-273-8255