For information on SCAN's response to the coronavirus (COVID-19), click here. SCAN members: for guidance in getting care during the current states of emergency and other FAQs, click here.
Paying for Vaccines: What You Need to Know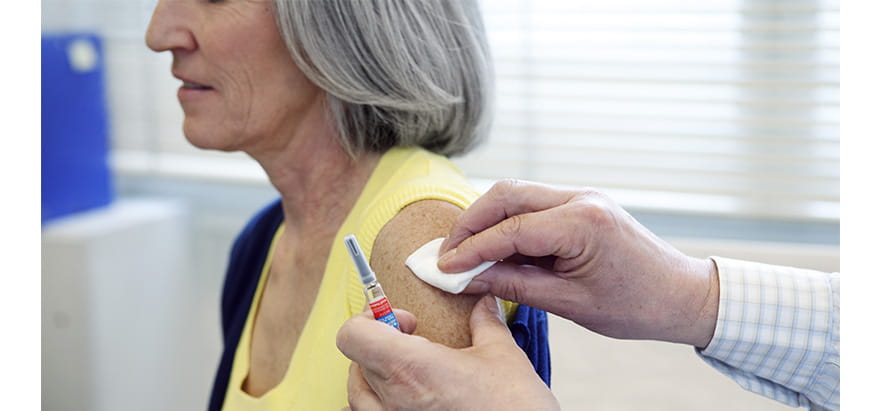 If you need a vaccine or shot, you probably assume you'll get it from your doctor. With Medicare, though, that's not always the case.
SCAN is a Medicare Advantage health plan, so here's how this affects your vaccines:
Some vaccines are covered under Medicare Part B. This is the "medical part" of your SCAN plan. Your yearly flu shot and pneumonia vaccine are the two most common Part B vaccines. You can get these from your doctor (or at your pharmacy) for no copayment.
Other vaccines are covered under Part D. This is your SCAN prescription drug coverage. So, like other drugs you take, you need to get these vaccines from a pharmacy. You will pay a copayment based on which tier the vaccine is on. And, as with many other medications, you may pay less for these at a Preferred pharmacy versus a Standard pharmacy.
IMPORTANT TO KNOW: While Part D vaccines are available from your doctor, you will need to pay the full cost your doctor charges when you get the shot and then ask SCAN for a refund. SCAN will pay you back the cost of the vaccine minus your copayment. This amount may be less than what your doctor charged you, so you may end up paying more for Part D vaccines at the doctor's office than you would at the pharmacy. If you have questions about your copayment or where to get a vaccine, contact Member Services.
Common Part D Vaccines
| | | |
| --- | --- | --- |
| Name | Tier | Prevents |
| Adacel | 3 | Tetanus, diphtheria and pertussis (whooping cough) |
| Boostrix | 3 | Tetanus, diphtheria and pertussis (whooping cough) |
| Shingrix | 3 | Shingles in people age 50 and older. Requires two shots, so you pay two copayments |
| Tetanus/Diphtheria Toxoids-Adsorbed (T-DAP) | 3 | Tetanus and diphtheria |
| Zostavax | 4 | Shingles in people age 50 and older |