For information on SCAN's response to the coronavirus (COVID-19), click here. SCAN members: for guidance in getting care during the current states of emergency and other FAQs, click here.
Focus on Extra Benefits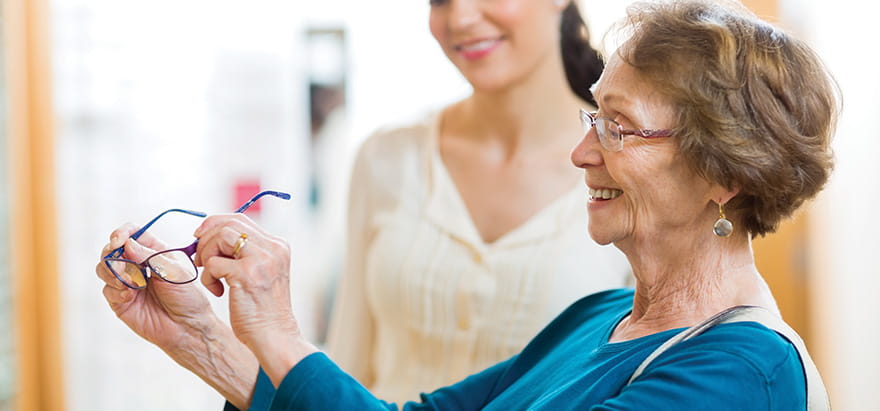 SCAN Senior Advocates tell us that some of the members they talk with—even those who have been with SCAN for a while—don't know about all the extra benefits that are part of their plan. Likewise, we were surprised when many members responding to a recent SCANListens survey on hearing loss said they had no idea that SCAN offers a hearing aid benefit.
The best way to be sure you're taking advantage of all your plan offers is to read your benefit materials. Get to know the routine benefits you can take advantage of without a referral from your primary care doctor, like vision and hearing exams. These are two valuable extras that aren't covered by Medicare but are a part of most SCAN plans. Read on to learn how to use these important benefits.
"The hearing aids are state-of-the-art and can be adjusted using your iPhone. I like having some control over how I hear the world around me."— SCAN member and TruHearing user
Annual eye exams and coverage for eyewear
Changes in vision are a natural part of growing older. That's why all SCAN plans offer a routine vision care benefit through EyeMed® Vision Care.
While specific coverage and copayments vary between plans, in general, this benefit includes:
One eye exam every 12 months 
Many optometrists work with EyeMed, and you don't need a referral!
Coverage for eyewear every 24 months 
This includes your choice of eyeglasses or contact lenses.
Contact EyeMed directly to schedule an appointment for an exam with a vision specialist near you.
EyeMed Vision Care
1-844-226-2850 (TTY: 711)
Monday through Saturday, 4:30 a.m. to 8 p.m.
Sunday, 8 a.m. to 5 p.m.
If you're experiencing a medical problem with your eyes—such as pain, discharge or blindness—see your primary care doctor right away.  
Don't pay thousands for hearing aids.
Get them through TruHearingTM for less!
How much less? If your SCAN plan has a hearing benefit (and most do), you can get up to two hearing aids per year, for less than the retail cost.
Choose from either:
The Premium hearing aid for $750 each, OR
The Advanced hearing aid for $450 each
That's significantly less than you'd pay out of pocket. In fact, last year 2,718 SCAN members saved on average $3,838 by using their SCAN hearing aid benefit.
Plus, your benefit may also include:
$0 copay for your initial exam with a TruHearing provider
Three follow-up visits for fitting and adjustments
A 45-day risk-free trial
Three-year manufacturer warranty for repairs and one-time loss and damage replacement
48 batteries per non-rechargeable hearing aid
Again, you don't need a referral to schedule a hearing exam. Contact TruHearing directly to make an appointment with a hearing care provider in your area.
TruHearing
1-844-255-7148 (TTY: 711)
Monday through Friday, 5 a.m. to 6 p.m.