New Ways to Get Fit That Are the Right Fit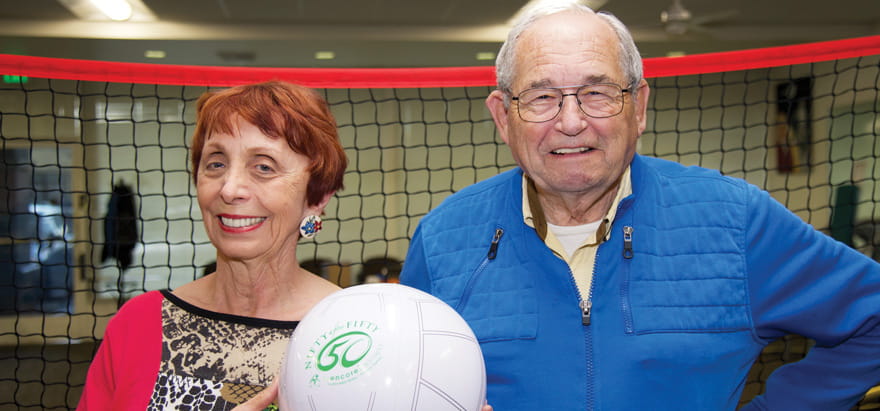 Seniors are upping their fitness game by putting a new twist on familiar sports and activities. Here are three ways to exercise while enjoying some friendly competition and fun, too.
Chair Volleyball
Sometimes called No-Fall Volleyball®, it lives up to the name in two ways. First, because players are seated, there's little chance of tripping and falling while playing. (Players do rotate sides between games but line judges retrieve loose balls.) Second, the stretching and hitting movements improve strength and mobility. That can make moving in everyday life easier and falls less likely.
SCAN Senior Advocate Maxine Marcus plays No-Fall Volleyball three times a week at a local fitness center for seniors. She says she enjoys "being among active and positive seniors, using my muscles and playing a game."
For many of the seniors playing, the opportunity to be with others is as much of a draw as the physical gains. "We laugh and joke and cheer each other on," Maxine says. "My 87-year-old neighbor with COPD says it gives her a way out of the house and a reason to hang on to life."
Maxine plays No-Fall Volleyball at a Nifty after Fifty® fitness center that is part of the SilverSneakers® gym membership available in most SCAN plans. Your local community senior center or other local health club may also offer a chair volleyball program.
Pickleball
Put racquetball, tennis and ping pong in a blender and you would end up with something like the game of pickleball. Described on the U.S. Pickleball Association website as a game for all skill levels, pickleball is easy for beginners to learn. Players try to score points by hitting a plastic ball over a low net. At the same time, they are building muscle and improving flexibility, reaction time and other skills important for staying healthy and injury free.
Pickleball can be played as singles or with a partner so it's a great way to exercise social skills, too.
Yoga for Seniors
Maybe you've tried yoga but find the poses too hard or the pace too fast. Don't throw in the yoga mat yet. There are many opportunities to get all the benefits of yoga in classes just right for your ability level.
Look for class listings such as chair yoga, restorative yoga and gentle yoga. These programs use the positions, breathing exercises and focus on mindfulness central to traditional yoga practices. But they do it in ways that make it easier for people who don't have the strength, balance or motor skills required for regular yoga. Chair yoga, for example, allows people who have trouble standing or doing exercises on the floor to do the poses while seated. In water yoga, poses are done in a pool, where it's easier to move and there's less impact on the body.
SCAN Peer Advocate Jerry Payne credits regular yoga practice for helping with his chronic breathing problems and flexibility. He says yoga is good for his emotional and social health, too.
"Yoga is an opportunity to take time out of the day to focus on yourself," Jerry says. "At the same time, joining a senior yoga class is a chance for people to make friends with others in the class."
Even if you use a cane, a walker or wheelchair, there are sports and other physical activities you can do.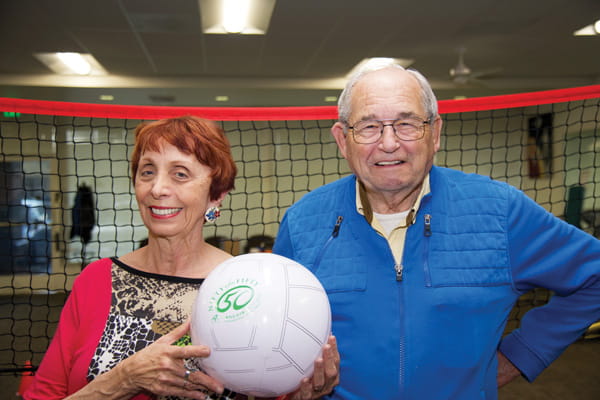 SCAN Senior Advocate Maxine Marcus and her husband, Alan, after a chair volleyball match.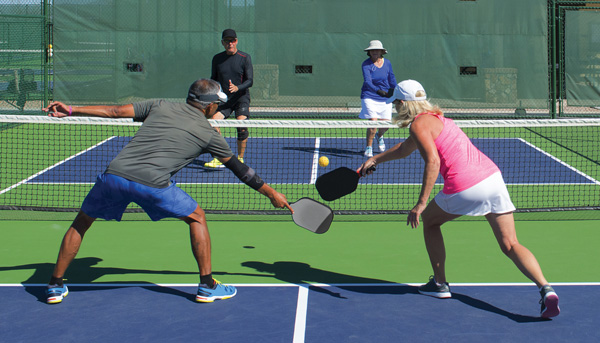 Don't know where pickleball is played in your area? Visit the United States Pickleball Association website at www.usapa.org/what-is-pickleball-where-to-play-in-your-area/.