For information on SCAN's response to the coronavirus (COVID-19), click here. SCAN members: for resources and answers to frequently asked questions, click here.
Make Your Fitness Fun in 2020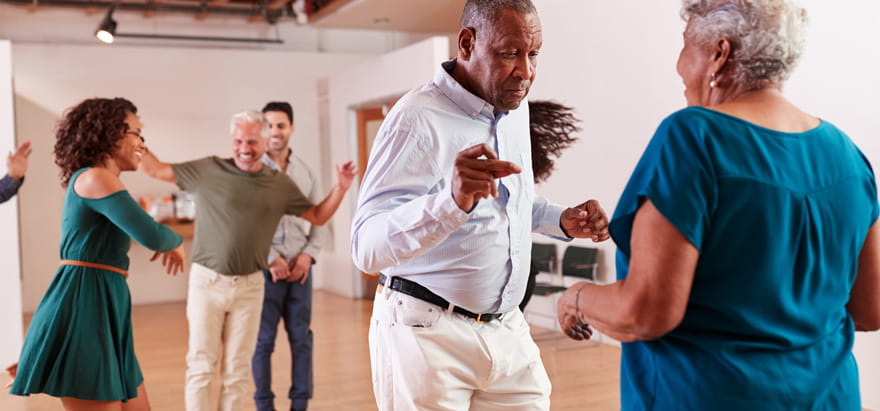 "The first time I see a jogger smiling, I'll consider it."
Joan Rivers
Whoever decided that exercise is an unpleasant experience must have forgotten what it was like to be a child. Remember begging to go outside and play-to swing, ride a bike, roller skate or play over-the-line with friends? Being active wasn't a chore; it was fun! It was a bonus that it also happened to keep us healthy and fit.
You can find the fun in your fitness again by building an exercise plan around what you love to do most. Here are some ideas to try:
Forget about "no pain, no gain". Healthy exercise doesn't have to-and indeed shouldn't-hurt or be a struggle. In fact, if a workout makes you feel sick or in pain, it could be doing more damage to your health than good. Plus, it's hard to stay motivated and stick with these types of intense programs over time. The good news is that, according to the Centers for Disease Control and Prevention, older adults can gain significant health benefits with a moderate amount of physical activity.
Moderate amount of physical activity = 30 minutes a day of moderately intense activities, or shorter intervals of at least 10 minutes of more vigorous activities.
If you're not used to exercising, or have a chronic condition or other health issues, talk with your doctor before starting any new activity. Then, begin with shorter workouts of five to 10 minutes, and increase the time and intensity as you feel more comfortable.
Remember to play. It's called "playing" a sport for good reason. Games are a fun way to keep our bodies fit and our minds sharp. Physical games, like soccer or chair volleyball, let you think creatively and compete and socialize with others. All this while you're also building strength, mobility and balance that are so important to staying healthy and independent.
Hit the refresh button. If your regular exercise routine has become a bore, jumpstart your motivation by trying an activity you've never done before. Not ready to learn something completely new? Switch to something similar but with a twist. If tennis has always been your game, for example, give pickleball a try. If you usually log your mileage on a treadmill, change it up by heading through the park instead.
Commit with a buddy. Working out is almost always easier with a friend. Find something you'll both enjoy and that gets you moving, like taking a water aerobics class at the local pool or meeting every morning for a walk to a nearby coffee shop. You'll be surprised at how much working out with a pal doesn't feel like work at all.
Make your workout work for you. Most activities can be tweaked to match your level of ability and confidence. So, if you like bike riding but aren't sure you have the balance needed to ride on the streets, pedal a stationary bike at the gym. If you'd rather be reading, watching television or some other sedentary activity, look for ways to make them more active. When you're watching your favorite TV show, get up from the couch and march in place during commercials. Instead of reading, download an audiobook to your smartphone, plug in the headphones and listen while you walk or workout.
You may not be a kid anymore, but you can still have fun while getting a good workout. After all, the best exercise is the one you enjoy the most, because it's the one you'll do the most.
These are moderate-intensity activities:

Walking briskly
Leisurely cycling
Recreational badminton
Playing doubles tennis
Dancing

These are more vigorous activities:

Hiking, jogging
Bicycling fast
Playing basketball or soccer
Playing singles tennis
Jumping rope