For information on SCAN's response to the coronavirus (COVID-19), click here. SCAN members: for guidance in getting care during the current states of emergency and other FAQs, click here.
Avoid Pitfalls at the Pharmacy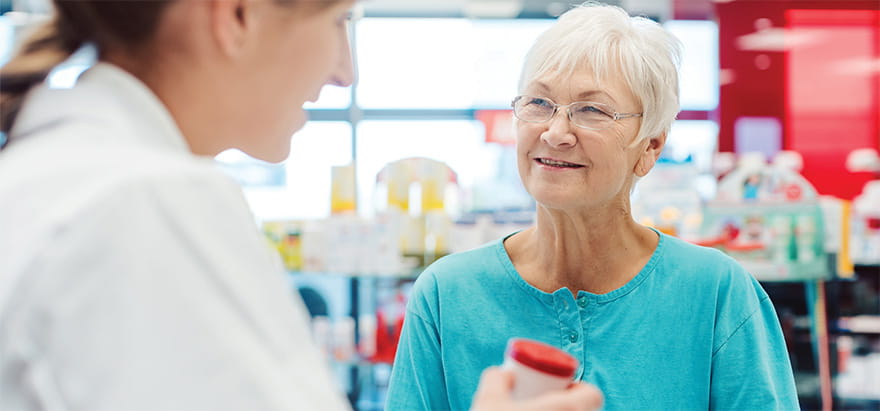 You've brought your prescription to the pharmacy, but the pharmacist says it's not covered by your insurance. What should you do now?
There are several reasons why a prescription might be "rejected" at the pharmacy. When this happens, it's best to call SCAN Member Services. We can find out what the issue is and help find a solution.
One thing: If the pharmacy staff tells you your prescription isn't covered, they might give you the option to pay out of pocket for the prescription—but we don't advise it! The issue may easily be cleared up with a call to Member Services.
The two most common reasons a prescription would not be filled are:
IT'S A "PRIOR AUTHORIZATION" DRUG

IT'S NOT IN THE FORMULARY

These drugs are in the SCAN Formulary but have to be reviewed and approved first.

What it means

These specific drugs/dosages are not covered, but you still have options.

Prior authorization is in place for safety reasons. We want to be sure the drug is being used as intended and that your doctor is monitoring the use.

What it is

There's likely another drug that's in the Formulary that works the same way. These

alternatives are usually more affordable.

You or your doctor can ask SCAN for a "coverage review". If approved, the drug will be covered. The cost will depend on what tier the medication is on. Tiers are listed in the Formulary, too.

What you can do

See first if there's a drug in the Formulary that will work for you. If not, you or your

doctor can ask SCAN to make an exception

and cover the non-Formulary drug. If covered,

it will be on Tier 4 or Tier 5, which are the higher-cost tiers in the SCAN Formulary.
New to SCAN and Have a New Doctor? You might be surprised to hear that a medication you've been taking for a long time isn't covered. And if you've switched to a new doctor but haven't had your first appointment yet, you might worry that you'll run out of your meds before you can see him or her.
But don't worry: Call SCAN Member Services. We can approve a 30-day "transition fill" to give you time to see your new doctor and discuss your medications. If any require prior authorization or aren't in the SCAN Formulary, talk to your doctor about trying an alternative, or taking one of the steps outlined in the chart above.
Is It Covered? Three Ways to Find Out
Knowing whether a drug is covered before taking your prescription to be filled can help avoid
issues once you're at the pharmacy counter. The medications covered by your plan are listed
in the SCAN Formulary.
Here are ways to find it:
Call Member Services.
Ask to have a copy of the Formulary mailed to you (call Member Services or fill out the online form on the SCAN website).