Getting in Shape for Life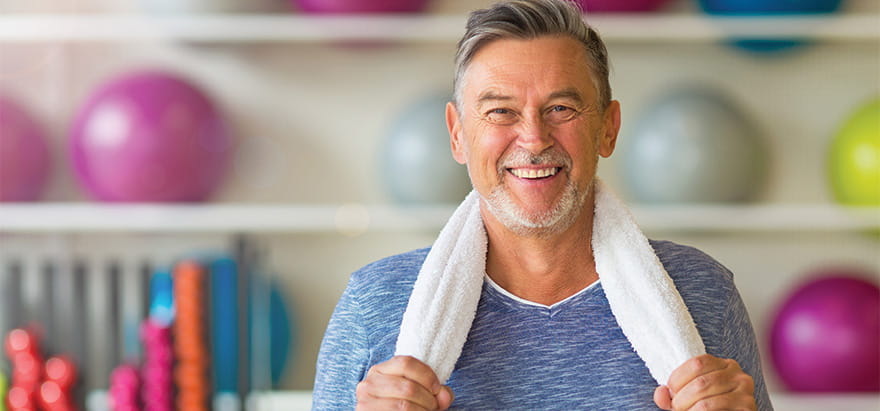 Functional Fitness Focuses on Everyday Living

"Think of exercise in terms of daily life, rather than physical fitness."
- SCAN Medical Director Magda Lenartowicz, MD
You've been using weight machines at the gym for months and it's paid off: You just hit a longer golf drive. But, when you bend down to tie the lace that has come loose on your golf shoe, your back seizes up. The problem likely is that while you were focusing on bettering your golf drive you forgot about improving your quality of life.
This is where functional fitness comes in. Instead of working on one part of the body for a specific activity, functional fitness focuses on training groups of muscles to work together so that everyday tasks—like bending down to tie your shoes—can be done more easily and safely.
An Investment in Your Future
Training for everyday tasks may not seem like a priority if you're not having any problems yet. But SCAN Medical Director Magda Lenartowicz, MD, says people often don't think about things like being able to get into the shower on their own until they can't anymore. "Getting your body in shape for life's tasks now, even before you have problems, helps you stay active and independent later," she says.
Fitness to Help You Live Well
Functional fitness is a different way of thinking about getting in shape. The goal here is not to increase the size of your biceps or reduce your waist size. Instead, it's all about getting and staying as mobile, limber and agile as possible.
"Functional fitness training prepares you for the physical demands of everyday living, like being able to walk upstairs by yourself or reach in the cupboard without losing your balance," says Dr. Lenartowicz. "It can make everyday activities easier, reduce risk of injury and improve quality of life."
Exercise for Real Life
Conventional weight training focuses on individual muscle groups working on their own. Functional fitness exercises are different; they train your muscles, joints and core to work as a team. The exercises use the same movements you use to do everyday tasks to build strength and stability.
This exercise:
Step-ups/downs on a stair or block
Front, back or side lunges
Squats
Prepares you for activities like these:
Climbing stairs
Vacuuming, raking
Getting up from a chair (or toilet seat!)
Pump Up Your Quality of Life
You may be familiar with some of the exercises in functional fitness training, and might even be doing some of them already at home or at a gym. Here are some things to keep in mind when adding these types of exercises:
Start slow with simple balance exercises that use your own body weight as resistance. If you're new to working out or have an ongoing health problem, it's a good idea to check with your doctor before starting.
When you're ready for more of a challenge, try adding weights—like kettlebells—and resistance bands.
Repeat each movement only as long as you can do it easily. Pay attention to how the exercise feels and where you are feeling it. If it hurts, stop.
For a lower-impact workout, do the exercises in a pool.
Many gyms offer training in functional fitness, but check out the class beforehand to make sure it is at a level that's comfortable for you. Activities like tai chi and yoga also focus on movements that build strength and balance.
According to Dr. Lenartowicz, if you think about exercise in terms of daily life, "you will end up feeling better, be less likely to fall or get injured and be able to continue to do the activities you enjoy."
And don't be surprised if you happen to add a few yards to your golf swing, too.