CEO MESSAGE: Your Connection to Good Health Starts Here
I'm pleased to welcome all of you to SCAN in 2019.
Whether you are a longtime SCAN member or are just joining us this year, I want to thank you on behalf of the entire SCAN team for entrusting us with your healthcare coverage. We work hard to earn—and keep—your trust by connecting you to the care, services and information that can help you be your healthiest self.
From time to time, you will hear from us with updates on your benefits or reminders about your healthcare. And SCAN, your doctor's office or Medicare might ask you about your healthcare needs and experiences. Trust that we take to heart all you have to say. Your feedback from these surveys really does make a difference to the care and service that you and other SCAN members receive. (See page 6 for more about some of these surveys.)
Of course, you don't have to wait to hear from us. Please call Member Services whenever you have a question or need help with your benefits. Every connection counts, even when you have positive feedback, like the member who recently wrote just to say, "I love my SCAN; wouldn't change a thing." That's helpful—and wonderful—to hear, too.
Thank you for connecting with SCAN.
Kind regards,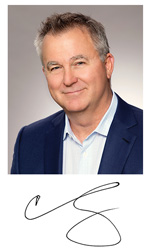 Chris Wing
Chief Executive Officer
SCAN Health Plan
P.S. For those of you who enjoy taking surveys and are computer-savvy, I invite you to join SCANListens. You'll receive regular surveys via email on different topics that help us design programs of real value to our members. Interested? Go to www.scanlistens.com.
"I wanted to thank you for having such a professional and caring group of people. The service I was given helped me through this health scare with the least amount of anxiety."
– SCAN member Joan P.