A1c and Your Diabetes: Are You Seeing the Big Picture?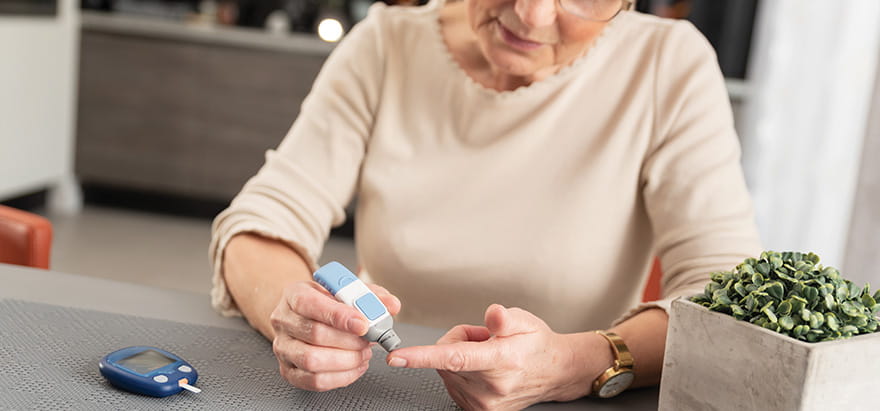 Uncontrolled diabetes often doesn't have symptoms, so the only sure way to know if your diabetes is in check is to measure the amount of sugar in your blood. But if you're relying only on daily finger pricks or glucose pump readings, you're not getting all the information you and your doctor need.
Here's why: Daily self-tests give you a snapshot of your blood sugar level at a given moment. But it's also important to see how your blood sugar acts over time. For this, you need a lab test known as Hemoglobin A1c, HbA1c or just A1c.
General A1c Goals for People With Diabetes:
If you're healthy and active: Less than 7% (154 mg/dL)
If you're older and have serious health problems: 7% to 8% (183 mg/dL)
While we're being asked to stay home, check with your doctor to see if you should get your A1c test on your regular schedule.
Should You Get Tested?
Most people with diabetes should have their A1c tested on a regular basis—every three to four months is typical. Keep a journal of your A1c results so you can get the big picture of your blood sugar over time. You don't need to fast to do the test.
The Lowdown on Low Blood Sugar
Imagine you're enjoying time in the garden, busy with moving pots here and pulling weeds there. Out of nowhere, you start to feel panicky, nervous and agitated. What's going on?
These are signs that your blood sugar may have dropped too low, a condition known as hypoglycemia. Hypoglycemia can be serious, but it can be easy to detect and treat.
What to Look for
If you experience any of these feelings, it could be because your blood sugar is too low.
Panicky – shaky, sweating, nervous, headache, fast heartbeat
Weak – dizzy, hungry, tingling in your mouth
Dazed and confused – sleepy, moody, can't think clearly, blurred vision
What to Do When It Happens
Check your blood sugar, if possible. If it's below 70 mg/dL, use The 15-15 Rule:
Have 15 grams of carbohydrates and check your blood sugar after 15 minutes.
Repeat every 15 minutes until your blood sugar is at least 70 mg/dL.
Simple sugars get into the bloodstream fastest: Try four ounces of juice or regular soda, four Lifesavers or a tablespoon of sugar or honey. Or take a glucose supplement, which comes in liquid, gel or tablet form.
But if the symptoms continue, get care right away.
How to Prevent It
Managing diabetes is a balancing act. These three M's can help ensure you strike the right balance.
Meals
Don't skip meals or put off eating. If you do miss a meal, have a snack close to the time you would usually eat.
If you're starting a new diet, test your blood more regularly for a while to know how it affects your blood sugar levels.
Movement
Test your blood sugar before exercising or other physical activity. If it's lower than 120 to 150 mg/dL, eat a snack before you get moving.
If you're doing more exercise than usual, check your blood sugar after you work out, too, until you have a better idea of how the new activity affects your blood sugar.
Medications
If you have to fast, don't take your diabetes medicines until you're ready to eat. If you take insulin, ask your doctor how much insulin you should take when you're fasting. Never drive a car if you've taken mealtime insulin and not eaten!